Red Bull KTM Tech3's Daniel Holgado title hopes sadly went away on Sunday at the Malaysian Grand Prix, as the number 96 was once again unlucky after he was involved in a lap 5 multi rider-crash in the Moto3™ race. That means zero points scored as Holgado now stands fourth equals with Alonso in the riders championship with a forty-one point-gap to the leader, and leaves Sepang with only the third place in the championship within reach. Rookie Filippo Farioli did an excellent weekend, his best of the season, after he got his first top 10 finish today as he took ninth of the Malaysian GP.
Best weekend of the season, yes boy! After making some much-needed structure changes for the last three rounds, rookie Filippo Farioli finally saw the lights again after what had been a very tough oversea tour so far. The young Italian headed directly to the final qualifying stage after the combined practices, and qualified in sixteenth on the grid just behind teammate Holgado. At the race start, traffic was intense as usual, and Farioli got hit by a few riders which saw him retrograde to P21 after the first lap. From there, he kept his head down and focused on his pace, knowing that the feeling had been there all weekend. Progressively he earned places back, with a bit of help from a lap 5 huge crash, and he was in P13 behind Kaito Toba. For a while he battled it out with Ryusei Yamanaka to hold his position, and another two riders crashing in lap 14 saw him making an entrance in the top 10, just before he got the best of Matteo Bertelle who had been involved in the Oncu-Rueda crash. Filippo Farioli crossed the line in ninth, which is his best result of the 2023, a huge achievement to be proud of for the young rookie who scored seven points today, which is as many as he had scored until now in seventeenth rounds. Bravo Filippo!
A crash mid-session in Q2 saw Daniel Holgado only qualify in fifteenth of the Malaysian Grand Prix, a far from ideal position for the rider who had topped the combined practices. That said, the young boy has proved in the past, and more recently in Thailand, that he is always up for a good remontada, and his pace from the weekend gave us the confidence that he could be right there for the battle for big points to keep title chances alive. When the lights went out at 12:00 GMT+8 for fifteen laps, Holgado did not take his best start of the season as he just earned one position to P14 after an intense first lap, just behind Riccardo Rossi. The next lap he moved to thirteenth after passing through Romano Fenati, who crashed the next lap. The number 96 had already started his remontada after registering his best lap on lap 2 in 2'12.665, which ended up being only 0.397 seconds from today's fastest lap. Entering lap 5 in P12, Dani was in a tight group with Diogo Moreira, Riccardo Rossi, and Tayio Furusato all led by David Alonso, but a mistake from the late one saw him high siding and take down all the riders behind him, including Holgado who saw his title chances fade away. With no points scored today, Daniel Holgado can now realistically only fight for the third place of the championship, which he will for sure target with only two rounds remaining in Qatar and Valencia. The Red Bull KTM Tech3 crew will now travel to Doha for the penultimate round of 2023, the Grand Prix of Qatar, on November 17-18-19.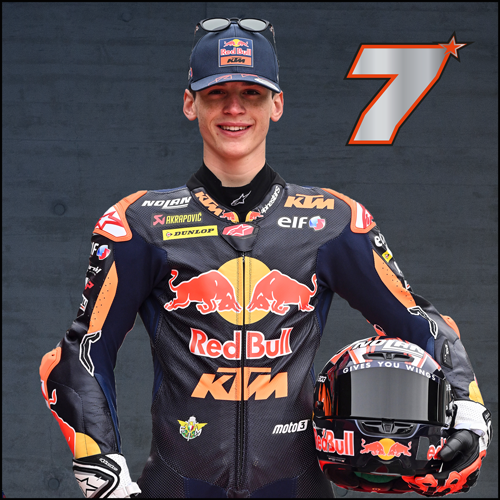 Position: 8th
Championship: 25th
Points: 15
"I am really happy with today's result! The start was difficult because I really wanted to stay with the front group, but I got hit two times by other riders in the first laps, and I lost many positions. I had to come back, and got a bit of help from the crashes in front, but my pace was good and I progressively caught back the group. In the end we finished in ninth, which is my best result of the season, and it really feels good after the last rounds which were really tough for me. In Qatar, we will continue to work as we did this weekend, and our target will be a good grid position so we can stay with the front group."
Position: DNF
Championship: 4th
Points: 205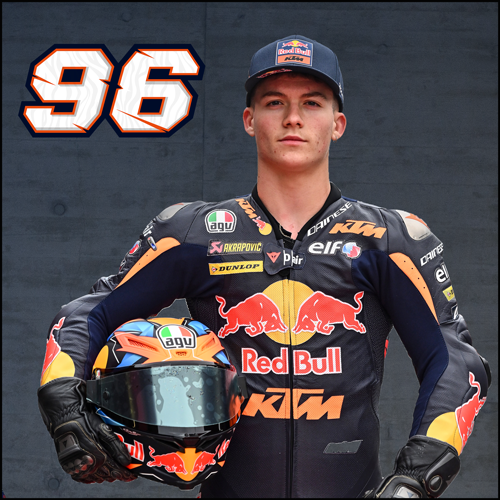 "It was an unlucky day for us, and it is tough to swallow right now. We need to try staying positive, give the best we can for the next two rounds, and fight for the things still within our reach, starting with the Qatar GP next week. Thank you to my team and my family for their amazing support."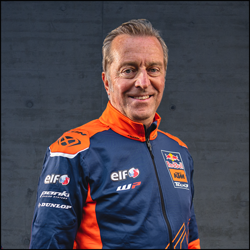 "Huge disappointment for the Red Bull KTM Tech3 team here in Sepang… Daniel Holgado was really fast in all practice sessions, but his crash in Q2 penalized him and saw him start in P15 on the grid, which is far from ideal. We know for sure he can start from row 4 and win a race, but we also know that it is very dangerous to be in the middle of the group because Moto3 races are hot and crazy, and it is calmer at the front. Unfortunately, David Alonso lost the rear, high sided, and the riders behind him including Dani could not avoid the bike on the ground. That was the end for Dani who was all set to fight for a podium. The good news is that he is not injured, but he is now out of the title fight. All we have to do for the next two races is ride free-minded, try to do the best we can without too much strategy or counting points, and maybe we will be able to finish on the last step of the podium. Luckily, we are not seeing everything black this weekend, as our rookie Filippo Farioli just had his best weekend of 2023, with a P9-finish. He qualified directly to Q2, and although he was pushed by a few riders at the race start, he kept his head down, focused on his pace, and ended up in ninth on such a tough track. I would like to congratulate both his technical side and himself for their weekend, as they all worked really well together with a nice and quiet atmosphere. Bad luck touched our leader, but we still have something to smile about at the end of the day!"