That's another crazy Moto3™ race in the bag after the lightweight class delivered another stunner on Sunday at the Chang International Grand Prix for the OR Thailand Grand Prix. Daniel Holgado delivered a masterclass ride in Buriram after he found himself at the back in P27, to take sixth of the Thai GP and keep his title chances alive. Filippo Farioli completed the seventeenth round of 2023 in P19 after starting from P24.
Daniel Holgado did not have much choice if he wanted to keep his title chances alive, as the number 96 needed to score big points on Sunday to stay in the battle for the crown. The Spaniard had qualified in eleventh after he had shown competitive pace all weekend. No rain this week for the lightweight class despite a cloudy sky at lunch time. When lights went out at 12:00 (GMT+7) in Thailand, Holgado held his position after one lap as he found himself behind Ryusei Yamanaka. All good until then. Things went down in the following lap as Dani ran wide after he was involved in an incident between championship rival Ayumu Sasaki and David Munoz, and was retrograted to the back in P27. Lucky to still be on his wheels, everything had to be redone, but the young rider was not going to have it this way, and started to get the fast laps in. The next lap, he was already in P23, the next one P19, then P18 until he found himself at the doors of the points on lap 6. Dani was riding at an incredible pace, 0.8 seconds faster than the leading group as he started his remontada, and rode his fastest lap in 1'42.548 on lap 5, which is today's second fastest lap. Two other riders were on his way, and with thirteen laps to go he was in P14, 2.4 seconds from the race leader. As he continued to push, he was on the break of the top 10 with just eleven laps to go, in the wheel of Riccardo Rossi after he got the best of birthday boy Jose Antonio Rueda. While he stayed for a while with Rossi trying to fight for a top 10 entrance, he finally made it and sat in eighth with just three laps to go. Having completely caught up with the gap, he was in the fight with the leading group for the final laps. After a Moto3™ finale full of overtakes, Holgado passed the checkered flag in sixth and scored ten important points. He leaves Thailand fourth equals with race winner David Alonso in the riders championship, as they both stand twenty-five points away from championship leader Jaume Masia who was denied a podium on the finish line.
Young rookie Filippo Farioli did not have an easy weekend for his first time on the Chang International Circuit. The number 7 of the Red Bull KTM Tech3 has struggled to find a good feeling and the right way to ride his KTM on the Thai layout, and it appears that the issues weren't fixed in the race. Starting from P24, Farioli took a good start and managed to grab four places to sit in twentieth after the first lap. The early race incident in which his teammate was involved then powered him to P18, and the following lap he was in P17, not far from the points. He lost a couple of positions shortly after that, but then rode his fastest lap on lap 7, in 1'43.634, and gained back his place within the top 20. From there, the rookie focused on his race pace, trying to get the laps in, and gain experience on a layout which did not welcome him in the best way. Still, he managed to finish in nineteenth today.
That's it for October's tripleheader, but hey, we have November's tripleheader coming very soon! Give the Red Bull KTM Tech3 crew one week to recharge the batteries, and then we'll be next at the Sepang International Circuit for the Malaysian Grand Prix, on November 10-11-12, 2023.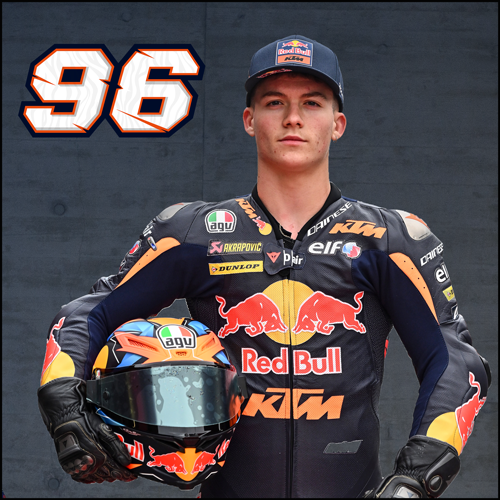 Position: 6th
Championship: 4th
Points: 205
"We were really unlucky to get caught in the incident between Sasaki and Munoz, but I am extremely happy with the job we did after that. We rode at an incredible pace, overtook many riders, and in the end we finished sixth, which is a great result after what happened. We are still in the fight, so we need to stay calm, enjoy the week off at home, and then we will focus on Malaysia!"
Position: 19th
Championship: 25th
Points: 7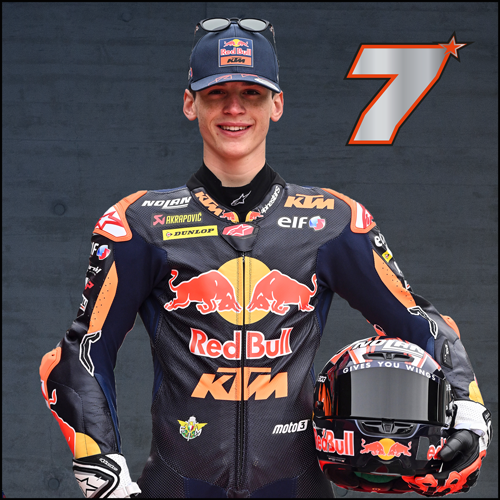 "It was a difficult race for us, even if we gained five places from our starting position, but we finished at sixteen seconds from the winner, so not great. Just like all weekend, the feeling on the bike and on the track was not great, and we did not improve it in today's race. It has been three intense weeks on the road, so I am looking forward to going back home, resting, training and eating well, and then we will go to Malaysia. It will be a new track again, I am excited about this."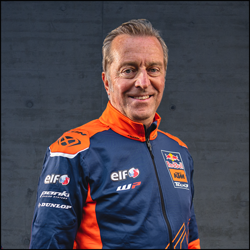 "Another masterclass ride from Daniel Holgado who showed us his huge potential today. He started from P11 so he was set to fight within the top 10 positions, but was involved in an incident between Munoz and Sasaki, ran wide, and found himself at the back in P27. Big disaster but luckily he stayed on his wheels. He stayed focused and rode at an incredible race pace for many laps, half a second faster than the top guys, until he closed the gap to the leader, to finish the race in sixth. It is a super strong race from Dani, who saved what could be saved today, and his chances to win the championship are still alive. Congratulations Dani. On Filippo Farioli's side, the target was a bit different as he never really found a good rhythm here in Buriram. The goal today was to stay on track, gather experience to improve his riding, and at the end he finished in nineteenth. I would like to thank him for his never give up attitude this week. That's the end of October's tripleheader, we will go home to rest and recharge our batteries before heading to Sepang in two weeks!"