Had we not all missed these hectic and stressful Moto3™ races on Sunday mornings during the summer break? The lightweight class treated British fans with an intense show on Sunday at the Silverstone circuit for round nine of 2023. Championship leader Daniel Holgado transformed his front row start with a podium in third on Sunday, and extended his championship lead to twenty-two points, wiping away the disastrous weekend of Assen. Having qualified in twelfth, his best result of the season, Filippo Farioli finished the British GP in nineteenth.
What a way to wipe away the Dutch Grand Prix and put in the past what belongs to the past! After a summer dedicated to preparing for the next twelve rounds, Spaniard Daniel Holgado came back stronger than ever in Silverstone this weekend to reach his fifth podium of 2023, in nine rounds. Starting from the front row in third after a wet qualifying day, Holgado came out on top after turn 1 when lights went out this morning at 11:15 (GMT+1), and quickly set himself up with the leading group within a couple of laps. Holgado was back fighting with title contenders Jaume Masia, Deniz Oncu, Ivan Ortola and Ayumu Sazaki, all joined by David Alonso who found himself within the front group in a couple of laps, after starting from the back of the grid. All constantly overtook each other, and there was almost never a lap with the same rider on top. There was traffic for sure, and each turn was a constant fight to maintain or regain positions, but Daniel Holgado remained focused, with a good race pace. Holgado started lap 14 of 15 with the lead, but then lost a couple of positions in busy corners. He passed the checkered flag in third to score his fifth podium of 2023, a strong result for the Spaniard who will head to Austria with a twenty-two-point lead in the championship standings.
Rookie Filippo Farioli was starting from the twelfth position, his best grid position of his young rookie season in the Moto3™ World Championship, and was for sure eager to take the opportunity to start towards the front to gain experience on a new track. His race start was far from ideal and he lost a couple of positions to find himself in P18 after one lap, and then in P23 a couple of laps later. He pushed a lot to try to make it back, but the bike's setting appeared to not suit the track conditions, which turned out to be completely dry. He completed the race in nineteenth, a disappointing result for the rookie who was targeting points after his Saturday.
Red Bull KTM Tech3 stays in England as both Daniel Holgado and Filippo Farioli will attend the Moto3™ Silverstone Test on Monday, a good opportunity for them to make adjustments before heading to the next round, the Austrian Grand Prix, on Aug. 18-20, 2023.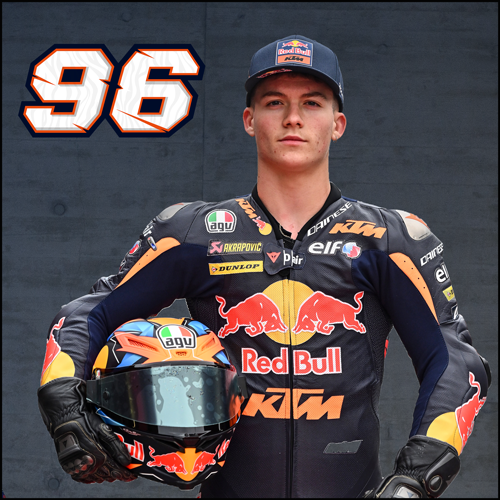 Position: 3rd
Championship: 1st
Points: 141
"Track conditions were difficult in the first couple of laps, and I had some issues with the front tyre, felt a lot of mouvements, so the race start was tricky. Anyway, we did well out there, and I am happy because we extended our championship lead a bit more, and scored very important points, especially after Assen. I did a very good race and defended my position well, so we are pleased with the result. We need to stay focused, round after round. The next one is a very important one for KTM and Red Bull, so we will want to do well at their home race. Looking forward to Austria in two weeks!"
Position: 19th
Championship: 26th
Points: 2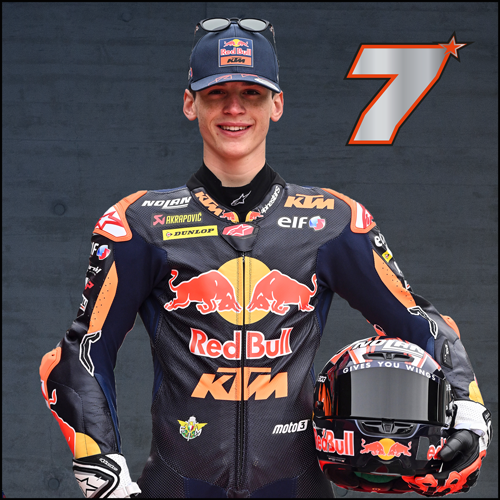 "We weren't too sure about the race conditions so we decided to adapt the bike's setting to a track 50-50, as we thought it could have rained, but in the end it was completely dry. My gearbox was too short, I struggled in many areas and lost too much time. I found myself behind after a couple of laps, and from there it was difficult to come back because I did not feel well on the bike, and especially with the front. I am disappointed, but we have a test here tomorrow to work hard and make some amendments to prepare for the next round in Austria, on a track that I already know, so I hope that we can have a good result."
"What a Moto3 race we have just lived in Silverstone. To start the second part of the season with such an opening race in the lightweight class is an incredible way to comeback from a long break. After Assen, I was a bit worried about Daniel Holgado, and really wanted to race again with him to see if it was just a weekend to forget, or a trend. After this weekend, we can say that it was one to forget. Since the start of the weekend, Dani has been full of motivation, energy, and very hungry. He did a very good race and was a serious contender for the win, he led a lot, but we knew that the last lap would be hectic. Of course you always pray for the victory, but we are very happy with Dani's third place today. Some of his title contenders made mistakes and lost a few points, so it is important to be on the podium, score points, and it is what he has been doing every weekend. Clearly this podium gave both the team and himself a big reboost, because we all needed it. Filippo Farioli did his best qualifying day yesterday, so we were expecting to score a few points. Unfortunately, although he pushed, it did not happen. I know he is disappointed, we are too, but it was a positive weekend overall and he made interesting steps in qualifying. He will have a test tomorrow to prepare for the next round in Austria, an important one for both KTM and Red Bull, so we will all be very motivated to do well. Hopefully we can do at least as good as Silverstone!"