Assen, don't be mad at us, but we are glad to be leaving you for this year! Red Bull KTM Tech3 will be going home with a feeling of unachievement, after failing to retain Daniel Holgado's 41-point lead in the championship. The team saw their leader struggle all weekend at the Cathedral of Speed, while Filippo Farioli did not quite find his way either in the Netherlands, as both riders headed home with no points scored.
Rookie Filippo Farioli was starting from the twenty-first position on the grid, and was targeting a good start in order to be able to overtake as much as possible. When the race started, he managed to stay with his group, while losing a position, but he made it back to his original twenty-first place within a couple of laps. Quickly a first group of the fastest riders drew itself up and the number 7 closed the second group, as he tried to keep up with the pace. In lap eight, the young italian was given a long lap penalty by the stewards after shortcutting the final chicane. After completing it, he was in P22 but rapidly passed the rider ahead to set himself again in P21. Although he tried his best, it was difficult for him to catch up on the rest of the riders, and he finished the Dutch Grand Prix in twenty-first, a disappointing result for the rookie who had dreams of points.
On the other side of the garage, the nightmare continued for World Championship leader Daniel Holgado at the Dutch Grand Prix. If broken pots were saved on Friday with a tenth position in the combined standing despite two crashes, Holgado completely missed out on his qualifying on Saturday as he was set to start this final round before the break in last, in P27, a huge shock for the team. The young boy faced the difficult task to defend his 41 point-lead from the back of the grid. When lights went out at 11:00 local time (GMT+2), Holgado lost the front in turn 10 of the first lap, and crashed in the gravels, taking his chances to do anything good today to almost zero. Still, he did not give up as he got back up and rejoined the race. The gap was too big, but Holgado continued to race on his own, and finished in twenty-fifth.
After an incredible first half of the season (three wins and one third place), this is certainly not how Daniel Holgado wanted to go on holiday, but this is racing. The Spaniard retains the Moto3™ Championship lead after eight rounds as he heads into the summer break with 125 points, his lead now being reduced to sixteen points. Filippo Farioli closes the first half of his rookie season with two points scored and plenty of margin to improve when the action returns at the British Grand Prix on August 4-6, 2023.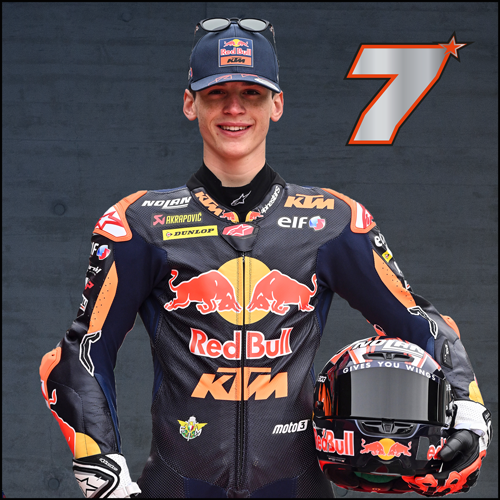 Position: 21st
Championship: 26th
Points: 2
"A race to forget to be honest. I was given a long lap penalty after a shortcut in the final chicane, and when you do a long lap from the back, you are even more at the back. I lost time and then it was very difficult to come back."
Position: 25th
Championship: 1st
Points: 125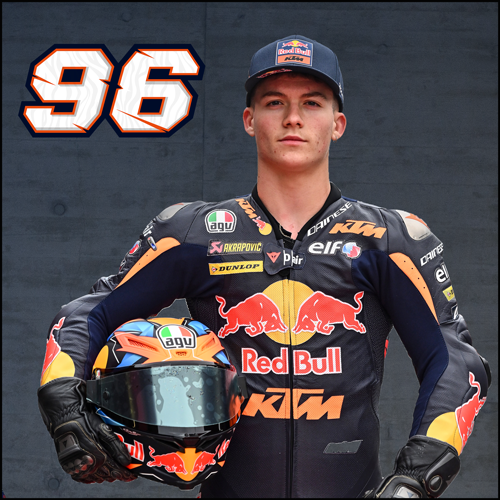 "We crashed in the first lap unfortunately, but I returned to the race and completed it to continue learning and getting more experience. For sure right now it does not do anything, but it will benefit me in the future. I will train very hard this summer and we will be back in Silverstone stronger than ever. Thank you to my team for the weekend."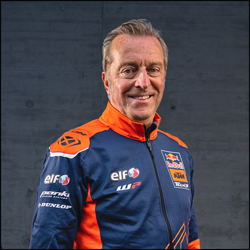 "We have been spoiled with Daniel Holgado since the beginning of the season as he has been amazing but we have just had our worst weekend of 2023, which is a big shock for us. Two crashes on Friday, dead last on the grid on Saturday, and a crash in the first lap of the race… it is difficult to do worse. This is not what we were expecting and hoping for before heading to the summer break. Of course if we want to see the glass half full, Dani still leads the championship with a sixteen point-gap on Jaume Masia, but the podiums have been more or less the same every weekend, so we lost our big margin. Still I would like to congratulate Dani and his team for the first half of the season they have done, but we need to understand what happened here in Assen, because we can not afford another weekend like this one in the future. On Filippo Farioli's side, I would say that this is business as usual. We did not qualify well, we got a long lap penalty, and we were slow in the race. I am a bit speechless to be honest. He is a rookie, we have been behind him since the start of the season, but we were expecting some kind of improvement after eight rounds, and we have not seen anything at all. I hope that both Dani and Filippo will get a good and positive break, and recharge their batteries well before the second half of the season. I am sure that Dani will be back stronger than ever, as the Dani we know, and I hope that Filippo will work on himself so we can approach the next twelve rounds in better ways. I wish the whole Red Bull KTM Tech3 team a good summer break."