Round seven in the bag for the Red Bull KTM Tech3 team after Daniel Holgado secured the third place at the German Grand Prix on Sunday after defending his position very well during the entire race to rival Ivan Ortola. The Spaniard extended his championship lead by scoring another sixteen points at the Sachsenring, while Filippo Farioli finished in twenty-first after being given two long lap penalties during the race.
Daniel Holgado was originally meant to start from P7 following Saturday's qualifying, but a grid penalty infliged to David Munoz advanced him to the second row on the grid, in sixth. When lights went out, the World Championship leader held tight his position in a busy turn 1 at the Sachsenring. After a few laps of observation, the Spaniard's pace was higher than the few riders ahead of him (he registered a new best race lap in 1'25.694 on lap 3), and was able to overtake to make it to second, in front of Deniz Oncu. By then race leader Ayumu Sazaki had already made a consequent gap. Eventually Holgado was passed by his Turkish rival as they fought for the lead of the second group, and found himself in a fight for third against Ortola as Oncu got away with a higher pace. The Red Bull KTM Tech3 continued to hold on to the pressure infliged by the number 48 who remained close to him, and never left him a chance to overtake him. He was not in the fight for the win today but delivered another strong race as he secured a podium, his fourth of the season, and added another sixteen points to his bag, heading to the Dutch Grand Prix forty-one points clear from the second in the championship standing, after seven rounds.
For the same reasons as his teammate, Filippo Farioli started the Motorrad Grand Prix Deutschland from P17 today instead of his initial eighteenth position. The young italian kept his position when the lightweight fight was on, and managed to gain one position within the first laps. The rookie pushed to stay tight with the front group in order to get on with a good race rhythm to aim for the points, but was given a long lap penalty due to exceeding the track limits of the tight Sachsenring. Unfortunately, the young rider failed to execute his long lap penalty correctly, and was given a second one by the race direction. He did all he could to make it back for the positions lost, rode with a decent pace in used tyres, and finally passed the checked flag in twenty-first. It is a disappointing weekend for the rookie who had potential to score points, and he will look forward to the next round in the Netherlands, as Red Bull KTM Tech will now travel to Assen and challenge the Cathedral of Speed at the Dutch Grand Prix, on June 23-25.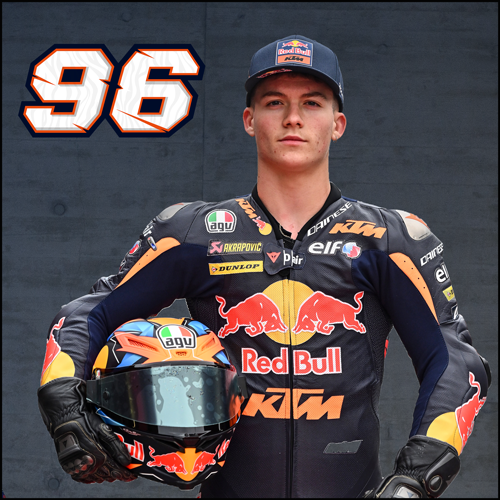 Position: 3rd
Championship: 1st
Points: 125
---
"This podium is very important for me because this weekend was a bit more difficult than the other ones. Our pace was not always good, and in the race both Oncu and Sazaki were way much faster than me. We fought hard for third place, and we finished with the podium. It is very important for me to score these points on a Grand Prix like this where I was not the favorite. We are fully focused on the next round in Assen, let's go team!"
Position: 21st
Championship: 26th
Points: 2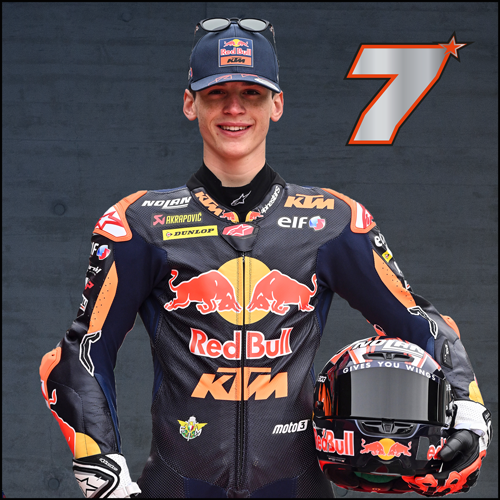 ---
"The start and the first few laps were not so bad, but I kept losing positions because every time I was overtaking in the corners, I was then passed in the straight. I pushed, tried my best, but went too much in the green when overtaking. I took a long lap penalty, but went into the gravel when I did it, so I obviously had to do another one. I was quite far after, but then I rode pretty well, and was faster with used tyres than at the race start, so it is a positive point. We need to stay calm, and try to have a better weekend in Assen."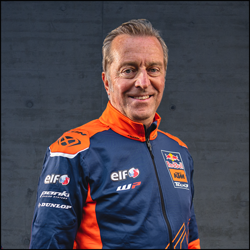 ---
"It is another strong week for Daniel Holgado here at the Sachsenring. The weekend was not always easy with the different track conditions, but he was really positive on the grid. He took a great race start, very aggressive as it should be in the first couple of laps, with the leading riders. Ayumu Sazaki and Deniz Oncu were both faster today, so we are really happy to be on the podium today in third. He continues to score important points in the championship, and extends his lead on Jaume Masia to forty-one points. Well done Dani for your weekend.
Filippo Farioli was doing a good race until he was given a long lap penalty for exceeding track limits. He did not execute it well, and was given another one, so his race was more or less over from that point. It is a shame because he had potential to fight for points today at the Sachsenring. The next round in Assen will be important for Filippo after two disappointing rounds in a row. He is a rookie who can score points, so he now needs to show it to us.
I would like, of course, to end with a little message for Deniz Oncu, and tell him a huge congratulations for his win today. He had been chasing this one for so long, was always so close to it, and he finally went on the highest step of the podium today. He is such a talented rider, and completely deserves it. Today's podium has the same three riders as in Mugello, and all of them are current and ex Tech3 riders so this is something that I am really proud of."