Once again, the lightweight class provided another thrilling race with the winner remaining uncertain until the very final corner of the Circuito de Jerez – Àngel Nieto on Sunday. Red Bull KTM Tech3's riders Daniel Holgado and Filippo Farioli both scored points in front of Spanish fans, placing the team third in the team's championship, with sixty-one points.
Racing on home turf in front of family and fans, Daniel Holgado was starting from the seventh position today. Both pace and feelings had been strong all weekend, so the young man was eager to do well in Jerez. When the lights went out, Dani took a rocket start to power himself to second place just behind poleman Deniz Oncu, and immediately settled into the leading group. He quickly overtook the Turkish rider to take the race lead, which he defended well for a couple of laps until old teammate Jaume Masia gave him a good fight. Holgado's pace was once again strong and consistent, with his fastest lap registered on lap 4 in 1'46.494 (+0.498 secs from today's fastest lap). Lap twelve was the last lap he led, as we started to witness a drop of performance. He seemed to be struggling on his bike as positions started to drop lap after lap. Eventually, he passed the checkered flag in P6, and scored another ten points to retain the championship's lead. Holgado continued to suffer from the arm pump injury he sustained in Austin two weeks ago, and will miss on the Moto3™ Jerez Test scheduled on Tuesday in order to get treated, with the goal to be fully fit for the next round in Le Mans, in two weeks.
His teammate Filippo Farioli delivered the best weekend of his rookie season so far. The young Italian had been fast and confident all weekend, narrowly missing out on his first Q2 on Saturday. He was starting from P23 today, and managed to gain five positions in his first lap as he landed in P19. He settled progressively into his race and pace, until he found himself just outside of the top 15 on lap 9. His fastest lap of the day was in 1'46.740, only 0.724 secs away from today's fastest man, which is a positive thing for the rookie. He continued to stay focused, trying to make no mistakes, and it paid off as he completed the Spanish Grand Prix within the top 15, in fourteenth. He scored his first two points in the Moto3™ World Championship, a well deserved result for Farioli who will head to the next round fully motivated to score more. Before that, he will participate in the Jerez Test on Tuesday, during which he will have many different areas to work on in order to continue progressing in the best way possible.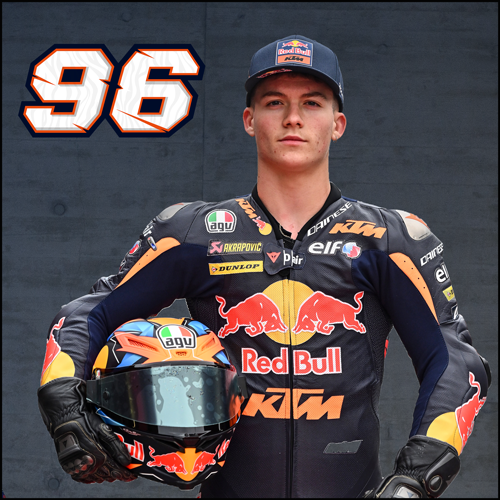 Position: 6th
Championship: 1st
Points: 59
---
"I was really fast in the race, but I struggled physically within the final laps. I was in front for most of the race, so of course I am not happy with today's result. Anyway, we need to stay positive because I scored points and I remain at the top of the championship. Time to reset and focus on the next round in Le Mans."
Position: 14th
Championship: 24th
Points: 2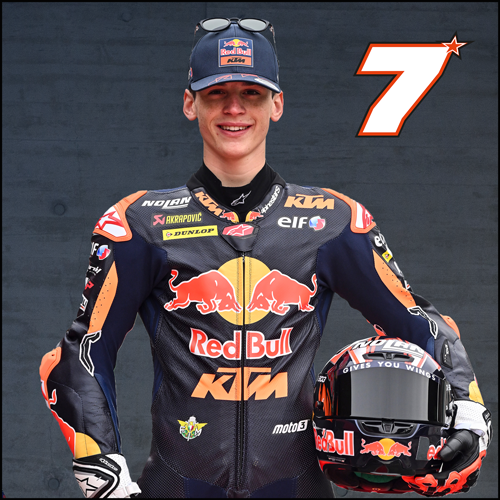 ---
"It was a good race today and I am very happy to have scored my first points in the championship. My pace was rather good and my fastest lap was not too far from today's fastest lap, so this is a positive thing to me. If we want to fight for more, we need to improve our qualifying on Saturdays, so it is something that we know we have to work on. We have one day of testing on Tuesday here in Jerez, and we have many different things to work on, so our focus is now on the test."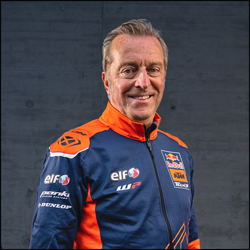 ---
"Daniel Holgado took a great start to his race today and showed incredible pace and determination. Everything was looking really good until the final laps, and what we were fearing, happened, with Dani still continuing to suffer heavily from an arm pump injury, just like in Texas. We finished in P6, which is a good result, but it is hard to hide our disappointment because there was potential to do an amazing result here. We are still leading the championship, with a small margin though, but at least we are headed to Le Mans at the top, so we prefer seeing the glass half full.
Regarding Dani's arm pump injury which he already suffered in Austin, his doctors told him that a surgery was not necessary. I was a bit sceptical about this decision, but this is like that. Clearly, we need to address this issue now because this is 'THE' typical syndrome of a motorcycle rider, and it needs fixing quickly. Dani will try to get treated at the Hospital Quironsalud Barcelona doctors led by Nacho Gallego. We will see what they say, but it seems obvious that he needs surgery if he wants to be fully fit for the French Grand Prix. He will not participate in the Moto3 Jerez Test which is scheduled on Tuesday, May 2nd, as the priority is to get healed right now.
On the other hand, we are very happy for Filippo Farioli who just had his best weekend of the season with us, with a P14 finish and his first points in the Moto3 World Championship. He has been fast all weekend, has been improving, and all of this with a good attitude. He deserved to unblock his points counter, and I think that this is just the start. He is a rookie, it's only the fourth round, so we are taking it step by step. Filippo will participate in the test on Tuesday, which will be very important for his progress. He now has four rounds in his pockets, and there are many things that he has understood about his bike that he can work from on Tuesday in order to continue making progress in the category."