In chilly conditions, Ayumu Sasaki started the ninth round of the 2020 season from 18th on the grid and managed to keep his position throughout the initial laps. Step by step he made up ground on the top, was fighting his way towards the points scoring positions and found himself in 12th at the end of the sixth lap. But from half distance the Red Bull KTM Tech3 rider couldn't keep his strong lap times, but continued to fight for the points. He eventually saw the flag in P17.
On the other side of the Red Bull KTM Tech3 garage, Deniz Öncü was unable to show his great talent on Sunday. Starting from P22, he battled hard to stay within the top 20 from the beginning, but unfortunately crashed in turn four of the ninth lap of the race. Luckily, the Moto3 World Championship rookie came away unhurt, apart from some bruises.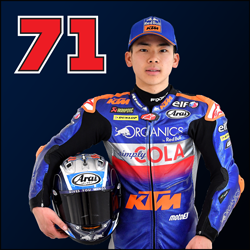 Position: 17th
Championship: 23rd
Points: 10
---
"We were struggling a bit this weekend and tried to improve the bike. In the race, it was definitively better than in Warm Up, so I was happy with it. Yet, the speed wasn't there this weekend. We tried our best to catch the front, but it was difficult. Also, the conditions on this track were really tricky and difficult to understand. We will take a look at our data now and try to improve in order to be stronger in Le Mans."
Position: DNF
Championship: 18th
Points: 22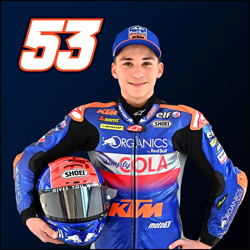 ---
"I did a good start and made up some positions to the front. I started to catch the front group, but then one rider hit me, so I crashed and couldn't finish the race."
---
"A very tough and disappointing weekend here in Catalunya for the Red Bull KTM Tech3 Moto3 team. We were never there in practice, nor in Qualifying. Race start was ok, they both improved their grid positions, but we could see that Deniz was losing ground and Ayumu was at the back at the points group. Unfortunately, Deniz was involved in a racing incident with Garcia, luckily he is ok, but no points and this is not the way you are learning. Regarding Ayumu, I would also say it was disappointing, because he was in the points clearly and then the last laps were quite slow and he missed out on the points, which is a pity. I am not happy, I think everybody is pushing hard, everybody is working hard and everybody tried the maximum, but we should be better. I can't hide the disappointing feeling I have after this round. So, let's try to regroup and focus on a strong return in Le Mans."