Red Bull KTM Tech3's Deniz Öncü displayed an impressive performance in today's Gran Premio dell'Emilia Romagna e della Riviera di Rimini. Starting from 12th on the grid, the Moto3 rookie was fighting hard to keep up with the top, lost the contact a bit around half way through the race, but was recovering from 15th with each lap. In a clever way, he made up position by position to finally see the flag in a strong seventh place.
In the meantime, Ayumu Sasaki, who came from even further down the grid, lost one place in the opening lap, but made up for it quickly to battle inside the top 15 throughout all the 23 laps of the eighth round of the 2020 Moto3 World Championship season. The Japanese youngster eventually crossed the finish line in a decent P14, which earns him two more points to his championship account.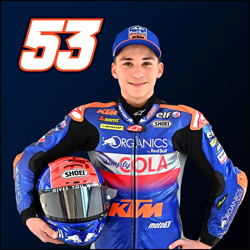 Position: 7th
Championship: 17th
Points: 21
---
"Actually, this weekend was one of the hardest. When we started, I already had two crashes, so it didn't get off well. In the second Free Practice I was just lost. Yesterday, we regained the feeling in FP3, but it was not enough to be in Q2. So, I had to go through Q1, where I was fastest. At the start of the race, I was ninth, but I was not ready to push on the first laps, so I was back in 19th position. But then I woke up and started to push more or less every lap, was passing one rider by another. In the end, I finished P7 and I'm very happy about this result, because this is my career best so far in the Moto3 World Championship. I'm happy for my rhythm and my fast laps. Next weekend we will be in Barcelona, so I will try to improve again."
Position: 14th
Championship: 22nd
Points: 10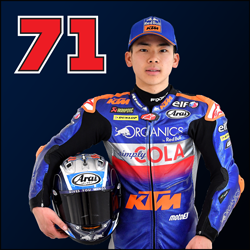 ---
"Today has been a tough race, especially from halfway point on. I started quite good, was following the front group, but then we lost a bit of contact to them. At the same time, I started to struggle to shift down. I don't know what the issue was, as my clutch felt quite hard and it wasn't easy. When you can't shift down like normal, you start to struggle, because the engine brake is working differently. In the last six, seven laps, I couldn't do anything, but at least I could finish the race inside the points. I'm disappointed, because in the beginning of the race, the bike was working very well. In terms of setting, we improved from Warm Up and found a good way. So, the end was just not, what we were hoping for, but after two DNFs we could finish the race with two points, which is a positive point. We need to move on to the race next week and try to be better in Barcelona."
---
"Finally, we've got a strong result for the Red Bull KTM Tech3 Moto3 team. I'm very happy! The Moto3 always shows such close and eventful racing. We had an ok start with Deniz, but as usual he had his up and down pace and form P9 in lap one he went down to 19. But then again as last week, he put his head down and came back. I thought at some stage, it was going to be difficult to catch the leading group, but together with Toba they made it. Then he did the last four laps like Deniz can do, passing almost everyone in front of him, lap after lap and ended up seventh, which is a fantastic result and his best ever result so far. We are very pleased, because last week we were robbed of a top 10 finish, so to finally make it, is great. Deniz is a very young rider, sometimes difficult to control, but with an incredible talent and I'm really glad to have him with us and I think we are going to grow. This is a very positive result, but also very important for him to finish the race like this. Clearly, he has learned a lot today. At some stage, he was together with Ayumu, side by side, which I didn't really like after what happened a few races ago in Austria. But then we could see that Ayumu had a problem to stay with them and he was losing a bit each lap. He still ended up 14th, which is a good result. Both of our riders in the points doesn't happen too often. We got the explanation, why he couldn't stay with Deniz; he got arm pump on the left arm. This is the first time it happened to him, but he showed me his arm, I touched his muscle and it was like stone. So, he clearly couldn't shift down and was just surviving in the last few laps. Anyway, let's take the positives, he has been fast, we've got our two guys in the points. Another race in Barcelona next week, which is good news. We are happy and still have a few more races to go and I think clearly, both Deniz and Ayumu are potential top 5 finisher."