Deniz Öncü launched off the Gran Premio di San Marino e della Riviera di Rimini from 28th on the grid and took some time to find his rhythm. But from half way distance the Red Bull KTM Tech3 Moto3 rookie was catching up quickly with the front group, doing very fast lap times until he arrived in P11 with six laps to go. With two laps to go, Öncü was forced to go wide to avoid to hit another rider crashing in front of him, so he dropped back to P18, but eventually managed to save 16th on the line, missing out on the points by just a whisker.
Red Bull KTM Tech3's Ayumu Sasaki was starting from P21 on the grid, showed some great initial speed and was fighting quickly through the field until he arrived at the top group. Battling it out for 10th position and having the pace to keep up with the front, the Japanese talent was unlucky one more time to get hit by another rider in turn eight of the seventh lap, which ended his chase for glory early.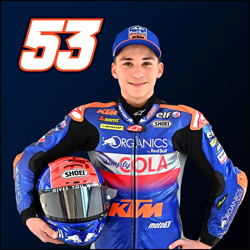 Position: 16th
Championship: 18th
Points: 13
---
"Actually, we improved a lot compared to Friday and Saturday here. We found something this morning and I could already do some fast lap times in Warm Up. I started quite far back, but did a good start and overtook some riders. But then I made a mistake and went wide, so I lost a lot of ground. Afterwards, I wanted to catch up again as fast as possible, but did more and more mistakes, as I was too hectic. Then I told myself to stay calm and pushed again. It took quite many laps to catch up with the group in front of me, but then I started to pass many riders. When I was inside the top 10, Arenas crashed and I had to go wide, luckily, I didn't hit him and crash, but I lost the contact to the group and many positions. I'm happy for the improvement, but next weekend we aim to finish the race with a good result."
Position: DNF
Championship: 22nd
Points: 8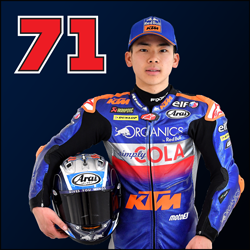 ---
"We had a good start. In the first lap, we had a small accident in the front, but I avoided it very well. I think we gained 12 positions on the first four laps and I was around P10, had a good pace, catching the front and keeping calm. But bad luck stroke again and one guy hit me from the back. I don't have eyes behind me, so I can't really see it. I don't know how he hit me, but it was similar to what happened in Austria and I couldn't do anything. It's tough. We had a good pace again. Now the only thing we can do is to keep the motivation up and try to improve Saturday's Qualifying, which is still not perfect. With the Qualifying we created some issues, because in the race, we were there. Our race pace is amazing with this bike right now, but on one lap we are struggling a bit more, so we need to fix this. We had a good chance to fight for the win here, so we need to keep positive and focused. I'll try to do the same next week, where we hopefully have some better luck."
---
"Unfortunately, I would say this was another typical weekend for the Red Bull KTM Tech3 Moto3 team. Our two guys had the possibility today to be on the podium. Ayumu had a great start, showed a strong pace and he was in the front group, ready to wait for the end of the race. We knew we had a good pace, but unluckily the same thing is happening every weekend and I don't know what to say, I don't know what to tell him to keep him positive and motivated, because the amount of bad luck he is having at the moment is unbelievable. I just hope he is going to keep that good attitude and then restart next week on the same level. Deniz, who was so far down and made a mistake in the early stages of the race, did a fantastic comeback. I think he was clearly the fastest guy on track, because at some stage he was 5.7 seconds to the leaders and when he had to avoid Arenas – him again, why us again, I don't know – he was 0.5 to the leader, so he has been making up more than five seconds to the top on his own and this is an incredible performance. Again, we end up 16th without points. This is very frustrating. I don't know, what we have done, but I think we have to go to the church and find a solution, because it's crazy and it could be funny, but it's almost impossible to describe the feeling. I want to say good job to my guys, the riders, the technical crew. For sure, Qualifying is not ideal so far, but we could see that in the race we are there. Moto3 is always close racing, but we are always involved in the incidents and not scoring any points. I'm very disappointed."