Ayumu Sasaki started race day at the Red Bull Ring in fantastic form. The Red Bull KTM Tech3 rider did the fastest lap of the entire Moto3 World Championship field this morning in Warm Up and was ready to display another amazing race. Launching off from P19 on the grid, the Japanese youngster quickly made up positions to catch up with the front group after the opening laps. With eight laps to go, Sasaki was fighting for the win in an impressive way, but ended his flawless race unindebted in the gravel of turn one with just five laps to go.
On the other side of the Red Bull KTM Tech3 garage, Deniz Öncü started the race from the fourth row. The Moto3 rookie was learning, but keeping the pace of the top group. He eventually closed up to the top 5 in the second half of the race, showing some good speed. While trying to improve further on his position, the Turkish youngster was too late on the brakes in turn one with five laps to go and collided into his teammate. Öncü was taken to hospital for further examinations after an initial medical check luckily didn't reveal any severe injuries.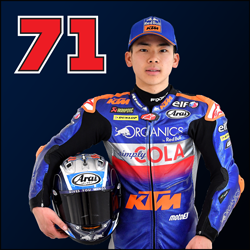 Position: DNF
Championship: 22nd
Points: 8
---
"Today has been a great race. We had a good Warm Up and started with P1 today. I felt good with the bike, but we knew that we needed to start from P19, so it was clear, that we have some work to do in the beginning of the race. But I had a really good pace, so I knew I could be in the front. I stayed relaxed and in the opening laps, I could pass many riders and catch the front group quite quick, even quicker than I expected because when I arrived there I still had 16 laps to go. So, I said ok, now it's time to stay calm, stay in the group, at least in the top 4 or 5 and when I saw it's six laps to go, I told myself, now it's time to be here and see what we can do on the last two laps. Unfortunately, Deniz crashed me out. I didn't know what happened, just watched the video. He went a little bit too hot in turn one and he lost the control. It can happen, because also he is a rookie and when he is fighting for the front, I understand, that you always want more. At the same time, I think it's not really nice to crash with your teammate at the home GP for us. I'm very disappointed, but I can't say anything else. We were strong and we just need to move on to Misano. That's all we can do right now."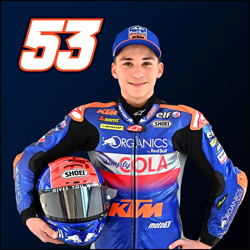 ---
Taken to hospital for further checks
---
"Another weekend that could have been a great one for the Red Bull KTM Tech3 Moto3 team. Ayumu was really unlucky yesterday in FP3 and Qualifying, but we knew he had the pace to do well and what he did today like last Sunday coming back from so far down on the grid to fight in front for the victory was amazing to watch, twice in a row. When I was watching with six laps to go, I thought, ok, finally he has the chance to fight till the end and show what he can do and fight for that victory or that podium. I couldn't believe when I saw Deniz hitting him from behind with braking, that was far too late, especially with a few laps to go. Such a big shame and I don't know what to say, because this is more than bad luck always on us. We had our two guys to fight for being in the top 5 and there were only two crashes and that was our two riders colliding into each other. It's a pity. I would like to say good job and incredible pace and determination from Ayumu. He is definitely showing, that he is a top rider. 'If you are not in front at the moment, it's only because there has been some really, really bad luck on you. But keep on pushing and it will come.' On the other side, I have been really happy with Deniz so far. This weekend, he was a bit nervous, tense and unhappy with a lot of things, especially with his teammate, that following his words has been holding him to do a better position in Free Practice. Today we could see that he was fast, he had the pace to be in front, but he was too aggressive clearly from lap one. All over the place and I think it's very difficult to swallow and to accept to see what he did, because it was clearly a desperate braking attack, a too late manoeuvre that you don't do with a few laps to go, especially when it is your teammate in front and you have no other solution than taking him out with you going straight. I know Deniz is young, but it's a big mistake. The rider should think about the effort the team, KTM and Red Bull are putting behind the race. This is not only a game, it's also a job and you have to realize that sometimes you have to leave your ego in the pits, go racing and think also about all the guys that are giving you the possibility to do what you are doing. I know he is young, I know he has a great talent and I like him a lot, but today he did a big mistake. I hope he will calm down and I hope he will respect and apologize to his teammate."