The Red Bull KTM Tech3 duo of Deniz Öncü and Ayumu Sasaki delivered a breathtaking race today at the Red Bull Ring, fighting for the podium and even the win in a stunning way, yet they finished in P8 and P13 respectively.
With a great start from 10th on the grid, Öncü quickly made up his way to the front of the field and was leading the race for several sectors on many laps. Towards the end of his spectacular 23 laps race, he fought with a many contenders, who have a lot more experience under their belt and eventually saw the flag in 8th position.
Likewise, Sasaki, who came from the 6th row of the grid, made up a lot of ground in the first half of the race to catch up with the front. Being in second position he had to swallow a long lap penalty due to exceeding track limits with three laps to go, which put him back to 21st. With a strong effort, he did his fastest time on the lap and finally managed to secure three points on the line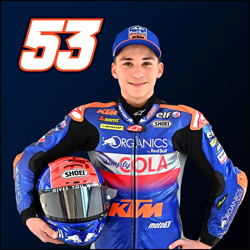 Position: 8th
Championship: 17th
Points: 13
---
"Already in the Warm Up, I had a good pace. I was confident for the race and felt very strong. At the start of the race, I already overtook one or two riders, but I wanted to go to the front. So, I passed, passed, passed and when I arrived in P1, I thought 'Wow, that was great' and I was very happy. Later, the other riders tried to overtake me again, there were some laps, where we swapped positions quickly, but then I understood that they are not faster than me, so I passed again and just wanted to be first. In the last laps, there was a big mess. I couldn't finish on the podium, but for this race my target was a top 10 and I did with eighth. I'm happy about the result and next week I will try again."
Position: 13th
Championship: 21st
Points: 8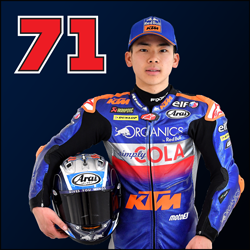 ---
"Today I had an incredible race! I think it was my best race in the World Championship so far. I had a great feeling with the bike, the team did an amazing job and I felt good from the first lap, so I tried to catch the front. I knew that it's a big group, I tried to manage my position and tried to pass as many riders as I can. On the last five laps, I arrived at the front and tried to push, catching up. With five laps to go, I was in P1, so I thought 'Now it's time to calm down and try to fight for the last lap'. But then I got the long lap penalty. I still don't know why, so we need to check for that. About our race, we did a fantastic job and even after the long lap, I managed to pass six or seven riders in two laps and we finished inside the points. Yes, it's important to finish inside the points and I think the pace was faster than the one from the winner. I guess, we have to be proud on that. The lucky thing is, that we have one more race here next week. We will for sure try to fight for the podium again."
---
"Pit Beirer said last week in Czech Republic, that he was speechless and I would say the same; I'm speechless after having seen what Deniz and Ayumu did today. It was an incredible show, incredible emotions. The Moto3 race today was very long for the Red Bull KTM Tech3 team and we couldn't believe it. We were so happy to see both, Deniz and Ayumu in front. Today they showed, that they can be GP winners. We couldn't fight for the podium on the last two laps, but I would say, this is a minor disappointment. Sure, Ayumu is very disappointed and sad, because he could also be fighting for the podium, I know and eventually even the win. The long lap penalty was a tough one, but we had to do it. He did it, in a nice way and still got two points, which is very good. He still got next week to show that he can fight for the podium. Of course, I would also like to congratulate Deniz, because for such a young kid to be leading the race the most, it's an incredible achievement. He was not scared, his lines were almost perfect everywhere and I'm very glad for him. I think we have two future champions in our team. We are just happy. Moto3 is such a close, competitive and tough class. It's our first year there and I would like to thank the whole team, because they work non-stop. I would like to thank KTM for their support, as well as Red Bull of course. Tonight we are a happy team, but the mission is still unaccomplished 100 percent and hopefully next week we will accomplish it."