Deniz Öncü secured P10 in today's Qualifying at the Red Bull Ring in Spielberg, Austria, while Ayumu Sasaki landed on 16th in Q2, ready to start tomorrow's 23 laps race at 11:00 local time from the front of the sixth row on the grid.
Following a wet and tricky Free Practice 3 this morning, the Red Bull KTM Tech3 pair delivered a thrilling performance in Q1 at lunch time today, which saw Sasaki finishing in second and Öncü in fourth place, having the chance to fight for the top spots in Qualifying two. Although the Turkish rookie did his personal fastest lap of 1:36.758 in Q2, he missed out on the top by 0.479 seconds at the end of the session, leading the fourth row tomorrow. Sasaki nearly matched his great 1:37.111 from Q1 to equal his best starting position this year so far with 16th.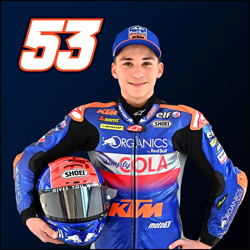 Position: 10th
Time: 1:36.758
Laps: 6
---
"Today I started the day with a strange feeling in the rainy conditions of FP3. I crashed on just my second lap, but later I was able to ride again and I managed to improve my lap times in the wet, so I'm happy about this. We needed to do Qualifying one and lucky it worked out to reach Q2. In the second session, I did a very good time, but was one tenth of a second faster on my last lap. Unfortunately, this lap got cancelled because I overrode the track limits. Overall, I'm happy about our job today and I think we are ready to fight in tomorrow's race."
Position: 16th
Time: 1:37.143
Laps: 5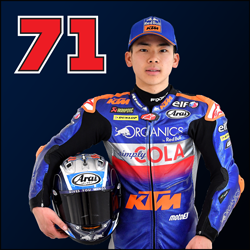 ---
"We had a difficult FP3 toady in the wet conditions. But we were sure, that we have a good pace on dry tarmac, so we knew that we could do well. Together with Deniz in Q1 we did a great job. In the first outing of Q2 Deniz had a really strong lap, which is great for him. In the end, we didn't finish exactly were we wanted, as there are still some issues for me on the bike. I think if we can solve that, we can finish in the top group tomorrow, so we try to see what we can do for the race. I feel quite good, but not perfect at the moment, so we will try to fix everything and be ready for the home GP of Red Bull and KTM."