The Czech Grand Prix saw the Red Bull KTM Tech3 duo fighting for points today, which eventually worked out on the side of Deniz Öncü.
The Turkish youngster was well inside the top group for at least half distance of the race after starting from P19 on the grid. He grit his teeth to deliver a surprise attack on the last lap, grabbing 15th position and with it the final championship point of the field. Whereas Ayumu Sasaki faced a tough challenge to catch up from P28. With strong times on the first laps, the Japanese managed to get up to 23rd at half time, improving further to eventually see the flag in 20th position.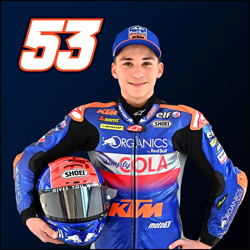 Position: 15th
Championship: 22nd
Points: 5
---
"Actually, this weekend was really hard for me, because all the time, I was struggling a lot. I was 2.5 seconds slower compared to the fastest riders, it was not easy to set up the bike and to stay focused. Saturday, we managed to improve our time and I also adapted better with regards to my riding style at this circuit, which is one of the hardest for me. I had a good start to the race, but was struggling a bit in corner one and 10, so I couldn't go to the front. I tried to save my position, but I was fighting a lot inside the group. Finally, I managed to finish in P15, I learned a lot. Every race is a new experience for me, so I am happy. We will leave this place with one point and without crashes. Next up is Austria, so we concentrate on that now."
Position: 20th
Championship: 21st
Points: 5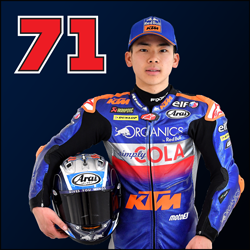 ---
"Overall we had a quite difficult weekend. After we finished well in FP1, but in FP2 I crashed out after just a few laps and later, we lost the rhythm and important track time. Our Qualifying strategy wasn't working out, so now we have to improve. Our race pace was not so bad. I still didn't feel great with the bike, but I tried to give everything I can and we ended up inside the second group. At the end, I was battling one rider and we lost the contact to the group on the final laps, but we were there and I think that was important. We learned a lot this weekend, we have Austria coming up straight away. I'm sure we can do better and I hope I can deliver two better races at the Red Bull Ring."
---
"This has been a tough weekend for the Red Bull KTM Tech3 Moto3 team. As every Moto3 weekend it's always a hard battle in each round. Qualifying didn't go the way we wanted and I think riders and team, we made a small mistake in terms of strategy and I believe the way everybody is working now in the Moto3 class is a bit of a joke. We know how important the toe of a rider can be for a lap time, but it's better to at least have a backup time, that you do on your own in order to secure a decent grid position, which we didn't do. Anyway, the race was very interesting. One more time, Deniz did an ok start and was in the group for the points like the previous two races. We told him the mission is to get at least a point and to see the flag, because if you see the flag, it's easier to get a point. He did it today and I think his last lap was really strong to finally get the point for the 15th position, which makes us really happy. It is a positive way to end up a weekend on a circuit, that normally he didn't like. But also, I told him 'You shouldn't have any circuit, where you come with a negative feeling.' So, I think he is coming out of here knowing that he can be also fast in Czech Republic and everywhere. Ayumu started really well, gave us a lot of confidence in FP1, but from then on, it was a negative spiral and the worst was yesterday, where we only did three full laps in FP3, which is for sure not the way to try to go directly to Q2 and we did only one timed lap in Q1, which is for me really wrong. We know the level of Ayumu, we know he is a potential top 5 and even a podium finisher, but we need to understand that the race is on Sunday, that although Qualifying is important, this is not the main part of the weekend. The main part is the 18 laps race here in Czech Republic. He did a good race, but for sure when he was together with Toba, who had a catastrophical start, I was hoping they could come back and Toba did, but Ayumu didn't. I think the fact that we had so little track time, didn't help us to get that pace, which was going to be enough to come back in into the points. A more positive end of the weekend than what was our frame of mind yesterday and I really hope that we learned a lot today and that from Friday we will start on a different way and with a different approach for the coming weekend. Let's move to Austria, which is not so far, which is a track that we all like, a very important Grand Prix of course for our manufacturer and our title sponsor and therefore, let's go there with a positive frame of mind!"