Red Bull KTM Tech3's Deniz Öncü showed some strong progress throughout Saturday at the Automotodrom Brno following a rather difficult opening day. The Turkish youngster lowered his fastest time from Friday by 1.449 seconds in FP3 this morning and aimed to repeat that in Q1 around midday, but unfortunately missed out on a Q2 spot by just 0.081 seconds. Therefore, Öncü will start the Czech Grand Prix tomorrow from row seven of the grid.
At the same time, Ayumu Sasaki struggled to regain his good feeling from Free Practice one yesterday, but had a plan on how to improve in Qualifying one. After his first outing, he missed out on the right time frame to reenter the track and already saw the flag at the end of his out lap. Nevertheless, the Japanese stays focused and optimistic for a strong race tomorrow at 11:00 local time.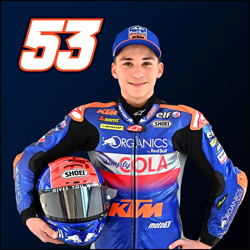 Position: 19th
Time: 2:10.017
Laps: 5
---
"Today I felt a lot better than yesterday and I managed to improve my lap time quite a lot, so I'm happy for this. Of course, we still need to get faster, because I just lost Q2 by 0.081 seconds, but therefore, we will try to do even better for the race tomorrow. Let's see what we can do."
Position: 28th
Time: 2:10.567
Laps: 4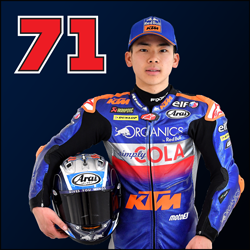 ---
"Overall, we struggled a bit more than yesterday during this Saturday. At the end of FP3, I did some small mistakes and couldn't bring together a lap that was fast enough for a direct Q2. In Q1, I knew that it's going to be difficult, because everybody tries to do one good lap. In my first outing I had some issues with the bike, so we fixed that and finally, I wanted to go out for one fast lap, but I missed it by probably around three seconds. I couldn't do this last flying lap with new tyres and we are in the back of the grid now. Anyway, we try to focus on a good result. I know, that we have a decent pace, so we just need to get to the front guys tomorrow."