Red Bull KTM Tech3's Moto3 duo of Deniz Öncü and Ayumu Sasaki delivered a strong display in today's Gran Premio Red Bull de Andalucía, but both unfortunately, didn't have the chance to earn their deserved laurels.
On his 17th birthday, Öncü started the second round at the Circuito de Jerez-Angel Nieto well from P14 on the grid to battle with the leading group throughout two thirds of the race. He even managed to reach the seventh position around halfway, but lost ground towards the end and unluckily went down with just four laps to go.
At the same time, Sasaki was just a few positions behind his teammate from the start, eager to stick with the front group and fighting for what could have been a possible top 10 result, he got taken out by another rider on the eighth lap. The Japanese youngster managed to jump on his KTM again and continued the race from the back of the field, but came in after 16 laps.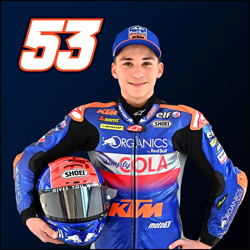 Position: DNF
Championship: 23rd
Points: 4
---
"Today we actually did another step compared to yesterday, which was good, because we could improve with each day. The Warm Up this morning was pretty good, so I felt ready for the race. I was quite nervous at the start, but it was ok. At the start, I did a few mistakes and had one moment with another rider, which I could save, but I lost some positions. The race overall was good for me, because I was there and I could fight with the top guys. With four laps to go, another rider hit me in turn five and I tried to control it with the rear brake, but it was impossible. So, I just flew and the race ended early for me. Anyway, I'm quite happy about our improvement, because I saw I can be with the top. I still need to continue working. A huge thanks to my team, as they are working very hard and they prepared me a really good bike!"
Position: DNF
Championship: 21st
Points: 5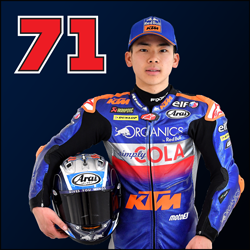 ---
"Today we unfortunately crashed out in turn one. I was caught by another rider, so it wasn't my mistake, but this can happen in racing. We choose the hard tyre to race again this week. In the beginning of the race, I was trying not to lose too many positions, keep calm and stay there. I knew that from the middle of the race, I would have the pace to come back. Last week around halftime I was P19 or P20, so this time I was in a place, which was a lot closer and only two seconds to the front, so I thought I can stay and for sure later I have the chance to fight back. Vietti, who finished third, was just in front of me with a hard tyre at that point. So, I was expecting to be in the front at the end, but I crashed quite early, so we don't know where we could end up. Overall, the weekend was positive, we improved many things, I just need to stay focused, the season is short and I'm a bit disappointed that I couldn't get any points. But I will just continue to work hard and try to catch the front as soon as possible."
---
"This is a huge pity for the Red Bull KTM Tech3 Moto3 team. We were full of hope on the starting grid, because both, Deniz and Ayumu were having the pace to finish in the points and I would even say in the top 10. We could see that was the case in the first part of the race. Unfortunately, there was an incident between Migno and Ayumu, which cost Ayumu his race. So, we had only one rider left and Deniz was doing great until four laps to go, where he was in the top 10, inside the front group and we were really hoping that he could stay in that group and finish in the top 10, which could have been great for his birthday and for the championship. After the DNF of last week we told him, you need to score points this week. Unfortunately, that was another crash a few laps to the end and it doesn't matter the reason, I'm not happy. You can't crash every weekend. One point is to go fast, which is good, but another point is to see the flag and this is the second time in a row we don't see the flag, crashing in the final laps and this is not how you learn and how you grow as a rider. I'm not satisfied with what has happened today, because I think that doesn't reflect our level. Everybody works really hard and today we got zero points. I hope everybody will go back home, think and come back with a fresh mind in order to prepare the weekend better."