With a strong effort Red Bull KTM Tech3's Deniz Öncü managed to advance to P13 in Free Practice three this morning, improving on his Friday's best by 1.436 seconds to qualify directly for Q2. At lunchtime, he went 0.762 seconds faster than one week ago and thereby, upgraded himself from P18 to P14 on the grid this time.
Although Ayumu Sasaki missed out on a direct Q2 entry by just 0.006 seconds in FP3 this morning, he displayed a fantastic performance in Qualifying one, lapping a 1:45.990 to top the session. The fast Japanese couldn't repeat this amazing time in Q2, but ended up 0.454 seconds behind his teammate to start the third race of the 2020 Moto3 World Championship season in row six tomorrow at 11:00 local time.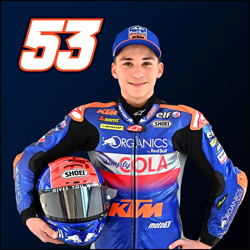 Position: 14th
Time: 1:46.416
Laps: 6
---
"Today was a good day, overall. To be honest, so far this weekend was quite similar to last week. The Friday hasn't been really strong for me again, but for the third time in a row, I managed to go to Q2 with a fast lap time in FP3, so that is truly a great feeling, especially as a rookie. In the Qualifying itself, I finished in P14. I'm happy for the grid position and can't wait to see what we can do tomorrow."
Position: 16th
Time: 1:46.870
Laps: 6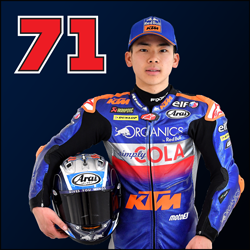 ---
"FP3 didn't go as planned today, although we had a quite decent lap time at the end. But all other riders went quite fast this morning, so we missed the opportunity to go straight to Q2. I was a bit disappointed and a bit more nervous, because I knew that I need to go to Q2. Q1 we managed to do very well, we had a great lap time in the heat. In the second Qualifying, I just didn't do my strong lap time, as I couldn't find the way to push. Sometimes you need a bit of luck as well, but in the end, with this heat, we could go very fast. I'm happy about today, we improved the bike a lot compared to yesterday, so I'm really confident. Finally, we gained one starting position compared to last week, I think I have a good race pace and I think I just need very good first three laps and then try to follow the front as much as possible."