Red Bull KTM Tech3's brand-new Moto3 outfit was finally back in action today at the Circuito de Jerez-Angel Nieto for two 40 minutes sessions ahead of the Gran Premio Red Bull de España at the same place this weekend.
Both, Deniz Öncü and Ayumu Sasaki used the important track time to get used to their KTM machines again in order to prepare the second round of the Moto3 World Championship, which is set to commence at 9:00 local time with Free Practice one this Friday.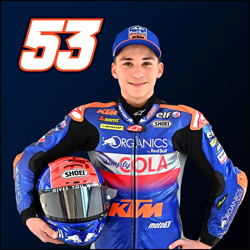 Position: 24th
Time: 1:47.848
Laps: 31
---
"Today was our first back riding the bike after Qatar, which is a long time. At home I was riding bigger bikes on small circuits, so it felt really different being back on the Moto3 machine and on a fast circuit again. Overall, it has been hard for me today to re-adapt, I need more laps, but I hope from Friday everything is going to be fine."
Position: 27th
Time: 1:48.224
Laps: 28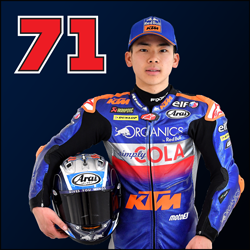 ---
"First of all, it's good to be back on track, although it's still Wednesday and the race weekend didn't begin yet. I'm very happy to be back in the team and to be able to work again. In the beginning, I felt quite strange getting back on the bike after four months, but I'm getting used to it. I still have many things to improve for the weekend, but we stay calm and try to do what we need to do. I'm really looking forward to the first race weekend back."
---
"That was a very important day for the Red Bull KTM Moto3 team, as it was a very long time without riding a proper Moto3 bike. I think both of our riders have been doing everything they could to keep training and not forgetting how to ride a motorcycle during the lockdown. Sure, it helped them to stay fit and quick, but it looks like they lost a little bit the way of how to ride a Moto3 machine, which is a very special and unique bike. This is why today is so good and important for us. Although we are quite far from the top in the timesheets, we recovered a lot of the feeling we lost and I think by Friday morning, they will be becoming more 'normal' Moto3 riders. It's good to see a KTM on top of the second session, so we know the bike is competitive and fast here and the feeling was quite good back in March during the IRTA test here as well. Although the Wednesday times are not very exciting, we are quite optimistic and confident. We got a good team, a good bike and two good riders. So tomorrow we have a decent day at the office to work with the crew, to see what to do and to analyze the data from March and July at this circuit. By Sunday I think we will be up there."