Red Bull KTM Tech3's first ever Moto3 race was marked by some sensations and the first Championship points at the Losail International Circuit tonight.
With an outstanding rocket start off the line, Deniz Öncü was up battling with the top of the field in the first laps of his first premier race as a permanent Moto3 class rider. In the course of the 18 laps encounter, the rookie was involved in some tough fights and went back to P19 following a mistake. But Öncü grit his teeth to fight back to 12th on the line. On the other side, Ayumu Sasaki was building his rhythm throughout the opening round, finding himself in P22 after the first corner. Step by step, the Japanese youngster made up positions to eventually see the chequered flag in 19th.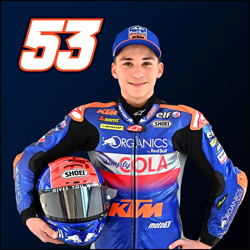 Position: 12th
Championship: 12th
Points: 4
---
"This has been the first race of the season here in Losail. During the tests in Jerez and in Qatar, I was working very hard for good results this season and in the Free Practices and Qualifying everything went well with an eighth position on the grid. I had a great start and went up to fourth in the beginning, although I lost some positions afterwards. I made a mistake and found myself behind the top. I did another mistake, but managed to recover and to catch the group again. I was able to pass some other riders and finished in 12th with a gap of just 1.485 seconds to the winner. It's amazing for me! I'm so happy, because I was fighting very hard. Thanks to everyone, who supports me, especially my team, who is working truly great. Now it's time to go back home and work even harder for the next race."
Position: 19th
Championship: 19th
Points: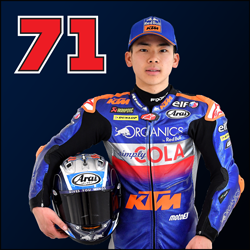 ---
"It was a difficult race. We improved a lot during the weekend, but it wasn't enough. We wanted more, to be honest. This is not a place, we want to be, but I learned so many things in this race, as during a test or practice, you normally don't do 18 laps in a row. In the course of the event, we encountered some trouble, but we couldn't know this before. So eventually, we did a great job, the bike was perfect. Now we learned, so for sure we can improve for the next rounds. I think we are on a good way, although I'm disappointed about the position. I'm convinced we are getting there, of course I hope that the next race will come very, very soon and we can ride in America. I will just stay motivated and be ready for the next race weekend."
---
"Finally, we got our first Moto3 race of the 2020 season done. I have to say that the whole weekend was a great weekend for the Red Bull KTM Tech3 team. Both riders pushed hard and did a good job all through the tests and the race. We could see an incredible race. Deniz had a dream start, we were so happy to see him in fourth position for quite a few corners. Like it always happens in Moto3, there were some touches and some slight mistakes from the riders, that made him lose positions. Sometimes he lost contact to the front group, doing great lap times and we were a bit scared to see the last eight, 10 laps, but then he was faster than the group ahead of him, even though he had a big contact, making him going back to 19th position, he has been passing everybody in front of him and ended up 12th, which is his first ever World Championship points. I'm really glad, he got his best Qualifying position yesterday with Tech3 and his best – so far – race finish with us. For sure, there is still a lot to learn. We have to remember, that Deniz is a 16 years old boy. I would like to say, that we love him, for his energy, his fun, his humor, his very positive attitude, it's like a breeze of fresh and positive air, so we will do everything we can to support and help him. But I think, he's got a great future ahead of him and we are proud to have him with us. I don't want to forget the other side of the box. Ayumu is a very talented rider, a very fast rider and someone who can fight for top positions in Moto3, we know. So far, he is a bit struggling to adapt his riding style to his new machine, but he has a never-give-up-attitude. We keep a positive frame of mind. At some stage, he was together with Deniz, but although it's a bit early stages – we believe in him, we fully trust him and we know, he is going to give us some great joy and achievements this year. So, it was a long stay in Qatar, but it was worth it. We got our first points with Deniz. Now, I think we can go back home, enjoying these moments, having a rest and just waiting for the big news, where the next race is going to be."