The Red Bull KTM Tech3 duo is ready to start the 2020 season at the Losail International Circuit in Qatar in less than one week time, following a successful three days test at the same venue.
From Friday to Sunday, Moto3 World Championship newcomer Deniz Öncü lowered his lap time significantly and tried many settings on his KTM, likewise Ayumu Sasaki, who did 108 laps in total. Both, Öncü and Sasaki can't wait to start Red Bull KTM Tech3's new adventure in the lightweight category.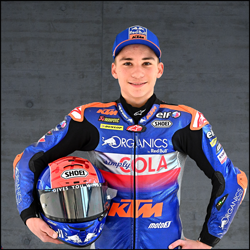 Position: 10th
Time: 2:06.028
Laps: 21
---
"We did a great job one more time today. In the morning, we tried the new 2020 engine and a new front fork. From the first exit, we improved the setup a lot. In the morning, I did my fastest lap of 2.06.0 on my own, which is great, as my fastest time from yesterday was in the slipstream. The second session was very windy. We have been strong in these conditions as well, so I'm very happy. I think we are ready for the first race weekend."
Position: 22nd
Time: 2:06.707
Laps: 25
---
"Today the conditions have been quite different to the other two days. It was windier, so we struggled in some parts. We tried a few new things again today, found something positive and need to find out what will be the best compromise for the weekend now. We still need to work a bit more. We didn't improve our lap time from yesterday, as we were mainly focused on trying some stuff. We need to check the data again, get a bit of rest now and then try to be as ready as possible for the first race weekend."
---
"The Moto3 is a brand-new class for Red Bull KTM Tech3. We were waiting for these first tests impatiently, but also with a big question mark on our minds. After the two tests in Jerez and Losail, we definitely feel much more comfortable and confident that we can have a good season. Honestly, I just would like to point out that the team, we built is completely new, but is already working like a proper team. There is an incredible feeling inside that crew. I want to thank Hector Testuri and Jose Manuel Ruiz Gomez and the rest of the new guys joining Tech3, they've been bringing their experience, but also their passion for the Moto3 class. On top of that, we clearly have to be more than happy and grateful to have these two young riders, who are full of fun, full of live and full of motivation, Ayumu Sasaki and Deniz Öncü. They are superstars, who make us laugh every day, but also work hard and serious, which is what we appreciate a lot. Clearly, we don't know how the races will go yet, but they are rejuvenating us. KTM is working very hard on the Moto3 class as well, they would like to get the title back to Austria and we will do everything we can to reach that target. I believe that we are ready after the Qatar test. As most of the field, we are eager and impatient to start FP1 next Friday."