The Red Bull KTM Tech3 duo continued testing today at the Losail International Circuit. Already at the end of the first session this morning
Moto3 World Championship rookie Deniz Öncü went more than 1.5 seconds faster than during day one, before he demonstrated his great potential at the end with a 2:05.937, finishing inside the top 10. Meanwhile Ayumu Sasaki concluded Saturday with a 2:06.390, which was 1.154 faster than his best lap on the previous day.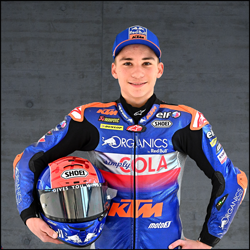 Position: 10th
Time: 2:05.937
Laps: 39
---
"Today was pretty good for me overall. At the end of yesterday, I felt a bit lost and didn't know which direction to take. I was pushing like crazy on the bike and I had the feeling I was already at the limit, although the lap times haven't been great. Compared to day one, I went a lot quicker today and also regained my feeling, which makes me very happy. We have been working a lot with the bike today and I believe, we are close to a really great setup. Let's see what tomorrow brings and then we're ready to race."
Position: 15th
Time: 2:06.390
Laps: 38
---
"Today I improved a lot. First of all, I started similar to what I did yesterday and arrived at this point early with a quite good pace. We changed a few things, although we didn't know if it's going to work or not. Finally, some of the changes we did were better and some didn't work that well. Now we know, what is working for me and what not. It's ideal to have the chance to try things like this before the race weekend. In the end, I managed to do a quite good lap time. I'm not too happy about the position yet, but I think we are getting there. Deniz did a great job as well and together we are in a decent position. There's one more day before the race weekend for us on track, so we aim to be ready for the Grand Prix tomorrow."