The new Red Bull KTM Tech3 Moto3 adventure got off a flying start in 2020 with Deniz Öncü and Ayumu Sasaki showing strong potential during the three days of official test at the Spanish Circuit de Jerez - Angel Nieto.
With a 1:45.517 this morning, Moto3 World Championship rookie Öncü managed to land on P10 on Friday. Meanwhile, Sasaki was working on his riding style throughout the day and finished in P21 of the overall standings of the three-day test.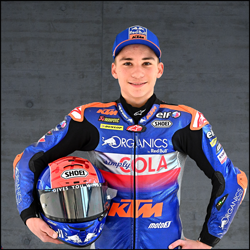 Position: 10th
Time: 1:45.517
Laps: 19
---
"Overall today has been another good day. I improved my lap time again and also my consistency. Already on my first flying lap this morning, I was quite fast and kept my strong pace throughout the outing. At the moment, I feel truly strong, so now I can't wait to pack all my stuff and arrive in Qatar, which is a circuit I have been riding on some years ago."
Position: 20th
Time: 1:46.201
Laps: 36
---
"To be honest, today was a bit difficult. But we found an area, where I can improve my riding style again, so we were working on this quite a lot, trying to find the KTM style even more after being with another manufacturer the last three years. I didn't push too much today, as we were focused on my riding and finally, we learned something. I'm very pleased with the work we did. Now I have so many things in my mind, to learn for Qatar. I will keep learning and use these days until the next test for checking data and a lot more stuff. I just can't wait to come to Qatar, where we have another three days of testing on another track, so I'm super excited. I just can't wait to ride again and try to be ready for the race."
---
"We just finished our first proper Moto3 test of the 2020 season. I think, altogether the first thing, we can say, that we have been really lucky with the weather and we had three great days, on which the lap times were incredibly fast and a lot of riders were inside the lap record. It was very interesting to be on track for the first time with our two riders. We were truly impatient and excited to hear Ayumu's comments, because he is coming from another brand and clearly, this is a different world, a different riding style, so he had to adapt and is still adapting. I think he is a fast rider and a never-give-up person and I believe these days here were very important for him to find the direction, to see how he needs to change his riding style, how he must ride a KTM to be fast and I believe in Qatar we will see him a lot closer to the front. On the other side of the garage, this was the real surprise for me at this test. Deniz is one of the youngest guys on the grid with not so much experience and he has amazed us here. Every single outing, he was quicker, doing incredible lap times without any pressure. Today we decided to just do the morning practice, because everything was really good, so we wanted to finish on a positive note. Clearly, we were thinking it would be a rookie and a learning year for him, which it will be, but we have seen that his potential is unbelievable. We know he still has a lot to learn, but when you do the lap times like he did, I think the future looks quite bright for him. Finally, I would like to thank the team, because it's a brand-new crew. Everybody was working together for the first time and you can already see that it is working like a well-oiled machine. KTM did an incredible job during the winter. The new chassis is by far a big improvement to last year and apparently, we will have the 2020 engine in Qatar. So, we are almost ready and we can't wait to start the first race for Tech3 in the highly-competitive Moto3 class, which is a new adventure and I hope it will be a great success."