The second day of official testing in the sunny South of Spain saw Red Bull KTM Tech3's Deniz Öncü and Ayumu Sasaki successfully finding their way into the 1:45's, which means they already broke the Moto3 World Championship pole position time of 2019 today.
Both further adapted to their brand-new KTM machines, which was clearly shown with their fast laps. While Öncü concluded Thursday on P11 of the day's standings, Sasaki followed just two positions behind.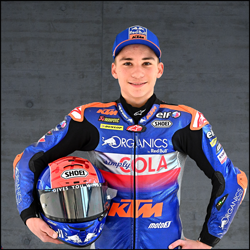 Position: 11th
Time: 1:45.944
Laps: 40
---
"Today has been a great day. I improved my lap time a lot and we also managed to work a lot on the bike. I did many laps inside the 1:46 and towards the end of the first session today I managed to do my 1:45.9. To be honest, I was not expecting to do this time at this test, because my target was a 1:46, as until this week, I just managed 1:47's on this track, but step by step we cut off the seconds. I'm so happy! Now we continue working and let's see what we can do tomorrow."
Position: 13th
Time: 1:45.981
Laps: 52
---
"I'm super happy about today and the progress we made! We started off a bit slow in the morning, because I wanted to change my riding style a bit, which we found out could help us after yesterday. It always takes a bit time to adapt your style and to change your mind for it. In the end, it took me around 16 laps to change it and actually I felt a lot more comfortable than Wednesday. When we put in a new tyre towards the end, we made a quite strong lap, a 1:45.9, which is not easy to make. So, I think we did very well. On the fourth day on a KTM, I already improved my fastest lap from last year, so this is very positive. In the end, we tried to improve a few more things, but we faced some trouble with the bike, so now we fix it in order to hopefully enjoy the last day again tomorrow. At the moment, with this lap time, I'm truly happy."