With the first day of IRTA test today, Red Bull KTM Tech3's new duo of Deniz Öncü and Ayumu Sasaki were back on track following two days of private test at the Circuit de Jerez - Angel Nieto on Monday and Tuesday this week.
After completing 65 laps in the course of the day, Öncü landed a 1:45.560, which made him finishing day one in 16th position. At the same time, Sasaki managed to break the 1:47 mark, ending up just 0.263 seconds behind his teammate.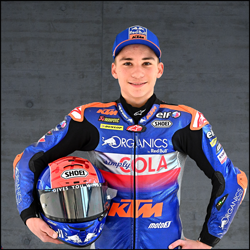 Position: 16th
Time: 1:46.560
Laps: 65
---
"We did the first test of the year from this Monday with the brand-new KTM. This bike is quite different to the one from last year, so my task was to adapt and to understand it. With every exit and every lap, this was working better. Step by step my feeling growing. I really like the bike at the moment, KTM improved the chassis a lot during this winter. I also went quicker, we improved the bike and overall, I feel very good. We have two more days here to test and the goal is to be faster each day, so far I'm truly happy with our work."
Position: 20th
Time: 1:46.823
Laps: 37
---
""We had two days testing before the IRTA test, which was nearly the first time riding the KTM bike for me, after we just had a rainy test in November and I was doing just a few laps with a broken hand. The first day, it wasn't easy to come back in a good shape after this long break, but the team did a great job to help me. We made a big step on the first day and improved by nearly 1.5 seconds on day two. Today we went more than half a second faster again, this is huge. We did a great job today again, but towards the end, we arrived at a point, where we need to check the data and try to find out what is happening in order to figure out what I can improve and what we can do improve on the bike. Hopefully, tomorrow and Friday can be even better."