In sunny FP3 this morning, both Red Bull KTM Tech3 riders managed to qualify for a direct Q2 entry. While Deniz Öncü was fifth, Ayumu Sasaki covered 12th in the third session at the rollercoaster circuit in the Algarve.
Strategies payed off for Sasaki in Qualifying today, as the Japanese youngster did an early fast lap to secure third, a position he managed to keep until the end of the short session. There with he secured the first ever front row start for the Red Bull KTM Tech3 team.
At the same time, Öncü, who had a great feeling all weekend, was missing out on a real fast lap in Q2, when he went out a bit late for his second run and hit the traffic. Yet, the Moto3 World Championship rookie will start the final round from the fourth row of the grid tomorrow at 11:00 local time (12:00 CET).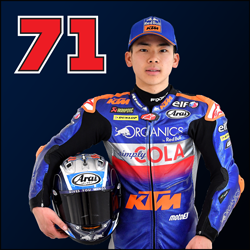 Position: 3rd
Time: 1:48.291
Laps: 5
---
"First of all, it is an amazing track! But it was hard to adapt yesterday, as it is completely different to the circuits we are used to. In FP3 we managed to find a way to improve and could make it directly to Q2. In Qualifying, I knew it's going to be a tough one, because the slipstream here is very important. So, I thought I just do one fast lap straight when I go out. Finally, it was enough to be in the front row today, so I'm very happy. On the last lap, we were in a big group and nobody could improve further, so finally our strategy was working this time. In the last rounds, Qualifying has always been very difficult and the race was a lot better, so I'm excited to see what we can do starting from P3 tomorrow."
Position: 11th
Time: 1:48.925
Laps: 4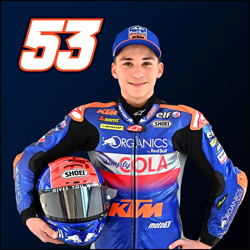 ---
"All the weekend was going pretty well until now. But in Qualifying, there was honestly a big mess and I couldn't do my fast lap. Finally, I'm in P11. I have to say, I'm not happy, because today could have been a very shiny day for us, but because of all the mess, we couldn't manage to do even one fast lap time. So, we are quite disappointed. We will have to work a lot tomorrow, but as usual, I will try my best in the race."