Red Bull KTM Tech3's Deniz Öncü delivered a fantastic penultimate round of the 2020 season today in sunny Valencia. The Moto3 World Championship rookie started from P11, but lost two positions on the first lap. Yet, he was quickly fighting his way back to eighth on lap two. Öncü made up even more ground later, fighting for fourth with championship leader Albert Arenas at half distance to eventually finish in sixth, which is his best result to date.
At the same time, Ayumu Sasaki came from P26 on the grid, making his way into the top 20 quickly after the start and even went on towards P16 until he got a long lap penalty, which made him eventually losing his chances to fight for championship points. The Japanese youngster saw the chequered flag in 19th.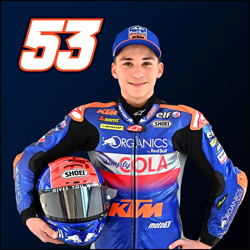 Position: 6th
Championship: 17th
Points: 44
---
"This week we can say, that we have one of the best GP's this year, plus I scored my personal best result in this category with P6. I'm quite happy, because I was fighting with a great group, including the championship leader. These guys are really strong. I'm super happy about the work we did this weekend, because I was fast and consistent in every session, started from P11 and finished in P6. So, I want to say a huge thank you to the team, because they work so hard and gave me a great bike, plus to everyone, who is supporting me. I will try to do this again for the final round in Portimao."
Position: 19th
Championship: 16th
Points: 49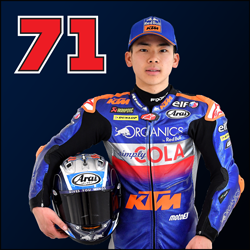 ---
"For me it was a difficult weekend and it was harder than I expected. Friday was already not easy and on Saturday I couldn't really find a decent rhythm, so we ended up in 26th, which cost us a lot today. I started quite well, but then I was inside a big group. A few riders in the front were slower than me, so it was difficult to manage my pace, plus I had some contact to other riders. Then I got the long lap penalty and everything went just wrong. We definitely had the speed, as you could see in Warm Up, where we ended up in P1. So, I'm very disappointed, because I know we can do much better. I also did many mistakes this weekend. Now we need to focus on the next round, especially on Saturday. We will have to try to do well in Qualifying and then I'm sure we can have a better race."
---
"It was a super great race by Deniz here. The whole Red Bull KTM Tech3 Moto3 team is so proud of him. We knew from the very beginning of this second event here in Valencia, that he was having the pace to be on course for a really strong result. We told him, we pushed him, we taught him to go alone, to do lap times on his own and not only wait for somebody as a tow and I think we can see, that Deniz is maturing a lot for the last three, four races. He is using his head a lot more and understands what he needs to become a top Moto3 rider, which he already is. So, I'd like to thank him for his attitude, for his understanding of what to improve and listening to what he has to learn and doing it on track. Of course, this sixth position is his best ever result in the Moto3 World Championship at the moment, but I think there is more to come and for the moment, we are happy to get the 10 points for the sixth position. I would also like to thank him because he was helping KTM in the constructors championship. The last two laps, he decided not to attack Arenas and Arenas could get a few points on his main rival. This is an important title for KTM. Therefore, it's a great weekend for Deniz. At the same time, we know that Ayumu is a potential Moto3 winner. He did the second position a few races ago and he was fastest in Warm Up, but it's always the same problem; the Qualification is bad and as long as we will keep this strategy, as long as we will be in the box and waiting for somebody else to tow you, we will not qualify well. Sure, this time, it's a bit different, because the track conditions were difficult to master, but if Ayumu is not together with Deniz today, it's not because he is a slow rider, it's because he has qualified far down. We are behind him, we want to help him and believe in him. We know he can be a race winner and a potential title winner, but clearly, we need to understand – and we've been saying that from the beginning of the season – we need to work better, we need the rider believing in himself more and trusting himself more and doing more lap times on his own. This is the crucial part of the weekend and as long as we will qualify 26th or 27th there is no way to be in the top 5, unless a miracle happens. Anyway, let's take the positives; Deniz is P6, his best ever position. Ayumu showed fast speed, topping the Warm Up. So overall, this is a positive weekend for the Red Bull KTM Tech3 team. Now there's just one more to go at the beautiful Portimao race track, where we hopefully have our two guys in the top 10."