Day two at the Gran Premio de Europa turned out to be another tricky challenge for the Moto3 World Championship class. Following rain at night, the Circuit Ricardo Tormo was wet for FP3, although it started to dry out in the course of this morning. Right on time for Qualifying one, the showers were coming back, so Red Bull KTM Tech3's Ayumu Sasaki and Deniz Öncü couldn't improve their positions.
While Sasaki started the short session on slicks, aiming to use the dry line, he quickly realized that it was impossible to go faster without risking too much when the rain became harder. At the same time, Öncü together with his crew opted for wet tyres last minute, which made him loose decisive first minutes of the session. Yet, Sasaki and Öncü will both have to attack tomorrow's European GP at 11:00 local time from the ninth row of the grid.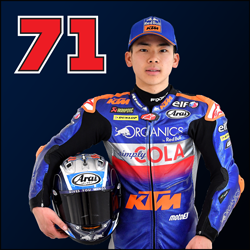 Position: 26th
Time: 1:48.722
Laps: 4
---
"It has been a difficult weekend with the changing conditions. I still don't have enough experience in the rain with this bike, so it takes me some time to understand. It's also my fault, because some riders are understanding the behavior of the bike quicker. Anyway, I take it positive, as for the last two races and for next year it's very important to make this experience and grow in the wet, as I know I can do good on dry tarmac. I learned many things today and I think we can improve a lot in the rain next time. In Qualifying we went out with slicks and tried to do a fast lap. We managed to do two flying laps, everybody tried their best, but I was unable to push really hard in these tricky conditions. I finished P12 in Q1, which is probably my worst Qualifying, so we can not be happy. It was just unlucky. Now we focus on the race, the weather for tomorrow looks really good. I know what I am capable of in the dry, so I will try to pass one by one."
Position: 27th
Time: 1:48.769
Laps: 7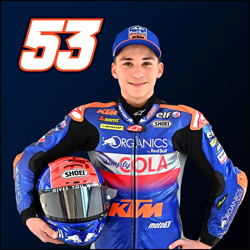 ---
"The Qualifying today was actually a big mess, because just before it started, there were some drops of rain. Everybody was worried about the strategy. We decided to go out with slicks, but changed to wet tyres, which meant we went out a bit later. Actually, my lap time was quite good, but then the rain got heavier and I couldn't improve anymore. Tomorrow I will start from quite far back and aim to fight towards the front. Let's see what we can do in the race, for sure it will be interesting."