In an incredible tight second Moto3 World Championship race at the MotorLand Aragón circuit, Ayumu Sasaki came out strong second after a breathtaking fight at the front, while Deniz Öncü crossed the line in seventh.
With a strong start, Sasaki placed himself immediately inside the front group, fight for top positions from the word go. With all the passes he even went back to ninth with four laps to go, but showed an unbelievable comeback in the final laps to eventually score his first ever World Championship podium in second and the first Moto3 podium for Red Bull KTM Tech3, just 0.051 seconds behind the race winner.
At the same time Öncü had to start from 18th on the grid, but found his way through the field with each lap. The rookie performed amazingly, beating many of the more experienced contenders until he reached P8 with three laps to go. With a final strong lap, the Turkish youngster passed another rider and finally crossed the line only 0.583 seconds behind the top in seventh position.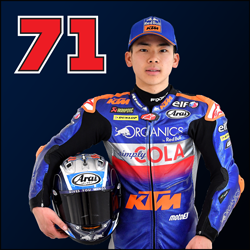 Position: 2nd
Championship: 15th
Points: 43
---
"My first four years have been really tough and now I'm here on the podium. The start of this season was not easy, I had some bad luck as well, but I started to understand what I need to improve and then it came. I knew that I will be strong in this race, I was focusing on the last laps. I'm really happy, although you always want a bit more and we were so close to win. We have three races left, which means we can still improve. I want to say thank you to all the people who support me and keep believing in me, even in tough times. Now we arrived here and I know I just need to continue with this performance in order to fight for the Championship next year."
Position: 7th
Championship: 19th
Points: 32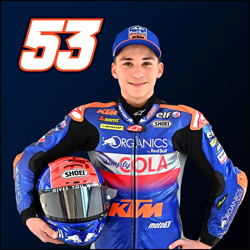 ---
"Actually, we had a good start of the weekend with fast and consistent lap times, but unfortunately, in Qualifying I did a mess, so I was just 18th, which means I had a lot of work to do in the race. The race itself was really hard, because there were many fights, but in the end, I managed to come out in P7. The podium was so close, I was missing out on the first guy by just 0.5 seconds. But let's try again in Valencia!"
---
"A great day for our Red Bull KTM Tech3 Moto3 team and a great day for Tech3 in general, because it's our first ever podium in Moto3 in our first ever year in this category. The Moto3 is a really hard Championship and it has been tough for us sometimes. We have to learn how to qualify well, which is key in every class, but even more here. We've got a rookie with Deniz and a young, but little bit experienced rider with Ayumu and today we could see that both of them were in the fight for the podium. Ayumu did amazing last two laps. You could see that he was having the determination and the incredible will to be on that podium. He ended up sixth in Le Mans, but he was a bit disappointed, so I'm so glad for him and his crew, as I think they really deserve it. He works really hard, he spends the whole year away from his home country and I'd like to thank him for his dedication. But I can't forget Deniz. He missed his Qualifying, but at the end of the day, he came back like a daemon. He was in front of Ayumu four, five laps to go and we thought 'Wow, it's going to be a great race'. Seventh is a great result. He is equaling his best result, he is just half a second to the winner, so I'd like to thank both of our guys. Ayumu is on the podium, but Deniz is also a podium contender for his rookie season. Thanks to our two riders, to the entire Moto3 crew and let's have a little bit of a break and end up the season like we've done here."