With a stunning time of 1:57.709 Red Bull KTM Tech3's Ayumu Sasaki secured his best starting position in 2020 so far with sixth at the MotorLand Aragón circuit today. The Japanese was already sixth fastest in this mornings' FP3, although he was suspended from the final 15 minutes of the session due to slow riding last weekend. He managed to improve his personal best from this morning again by 0.106 in Q2 and will start from the second row tomorrow.
At the same time, Deniz Öncü made it straight to Q2 as well. With the 11th fastest time in the combined practice sessions, the Moto3 World Championship rookie lost out on his teammate by just 0.124 seconds this morning. In Qualifying he was unable to repeat this great performance, but will attack from the sixth row at 11.20 local time for the Gran Premio de Teruel on Sunday.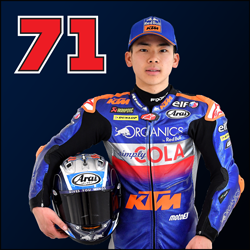 Position: 6th
Time: 1:57.709
Laps: 6
---
"It was not an easy Qualifying, but we managed it quite good today with finishing in P6. After we tried a new setup yesterday, it started to work this morning. We went straight to Q2, although we had the penalty. I feel more confident. To be honest, I was not in a perfect place on my fastest lap in Qualifying, but I knew I had only one lap left, so I just pushed. I think we had more margin and we could have been even quicker, but I didn't take the risk, which I'm a bit disappointed about. But compared to yesterday we improved a lot and compared to last week I think we are very strong in terms of race pace. I think to start from P6 is a great opportunity and we will try to fight close to the front all the race tomorrow."
Position: 18th
Time: 1:58.398
Laps: 5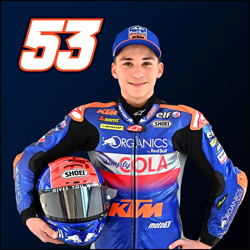 ---
"We had a good start this morning, as we managed to do a fast lap time in FP3, but in Qualifying, I didn't manage to do the same. So finally, I didn't get the ideal position out of my direct Q2 entry and I need to start from P18 on the grid. But I have a good pace, so we are very confident that tomorrow is going to be better."