Starting from P18 on the grid, Red Bull KTM Tech3's Ayumu Sasaki came off the line well, making up two positions immediately. With strong lap times in the first half of the race, he moved further ahead until he arrived in the second group, where he fought until the line to eventually see the chequered flag in 13th.
At the same time, Deniz Öncü dropped back to P22 in the beginning, after lining up in 15th on the grid. But with each lap, the Moto3 World Championship rookie gained more confidence at the MotorLand Aragón circuit and caught up. He concluded the race after 19 intense laps in 15th, earning another championship point.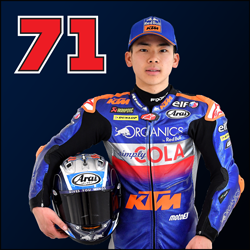 Position: 13th
Championship: 19th
Points: 23
---
"It was a difficult race. We made a good start and we had a good pace in the beginning. I could gain some positions, was catching and was even in P10. I knew in the beginning of the race, that the tyre would drop, so I didn't push too much, I was keeping calm. In the end, some riders passed me and for me it was frustrating. We could have been much stronger, I need to manage the tyre better next race. I learned from it today and I know, I can improve as well. It's still a pity, as I know we could have done better today. Anyway, we finished inside the points, which is important."
Position: 15th
Championship: 20th
Points: 23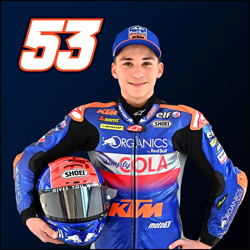 ---
"The position is not that good with P15. I had the potential to fight further in front, but in the first laps I was a bit far back, so I lost the contact to the front group. P15 is a decent step for a comeback anyway. If we check the last two races, Barcelona and Le Mans I was just lost and I even finished last in France. It was really hard. So, to finish 15th here, I'm quite happy. Next week more."
---
"We knew starting from the grid positions Deniz and Ayumu where was going to be a difficult Moto3 Grand Prix here in Aragón. Nevertheless, they had quite a good start as usual and they were both improving their positions. Unfortunately, Deniz made a mistake in the first lap and lost a lot of ground on Ayumu. Ayumu did a great job the first 70 percent of the race, I would say, being in a top 10 position. For some reason, his pace dropped dramatically in the last five, six laps and the guy behind him overtook him and he ended up 13th, which is actually not a bad result, but we could have hoped for a top 10. Deniz was very far down, took his time to find his pace and once he found his pace, he has been climbing up the order to eventually get the last point. He had a great fight with Ogura, who is still a championship contender, so for sure one more time, he learned a lot. This is it. The positive news is, that both of our riders are in the points, which is an achievement in Moto3. One more time we have the luck to have a race here next week and one more time, the target is to work better during FP1, FP2 and FP3 to have a better Qualifying position. This is the only way we can fight to be well inside the top 10, which is our target this year. Great job from Ayumu and Deniz, thank you to the crew and let's do it again in a few days, but with a better grid position and even more important a better race position."