Following a strong display in Qualifying yesterday to start from the third row of the grid, Ayumu Sasaki concluded the home round for Red Bull KTM Tech3 with a fantastic sixth position. After losing some places on the opening lap, the Japanese youngster mounted back from 10th to 6th in the first half of the race, but then had to avoid another rider and lost ground again. With strong lap times throughout the 22 laps, he managed to fight back up to sixth on the line, bringing home his personal best of 2020.
In the meantime, Deniz Öncü struggled to find a decent feeling at the Le Mans circuit all weekend. He launched off from P27, but was unable to show his great potential this time. He eventually crossed the line in 22nd position and can't wait to arrive in Aragon next week for the second round of the October triple header in order to regain his great feeling.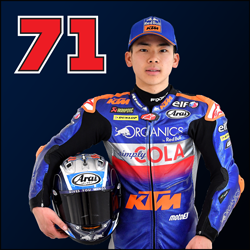 Position: 6th
Championship: 19th
Points: 20th
---
"Today has been one of the best race weekends with Red Bull KTM Tech3, after we were very strong in Austria as well. Yesterday I had my best Qualifying this year and I was confident from the start. I missed a bit on the first three laps, but then I could catch the group. The first group was fast, the pace was incredible. I think it was almost one second faster on every lap compared to last year and I was inside the top group, which made me very happy. In the race, I tried to plan a few things to be on the podium, because I knew I'm capable to do it. I started very well, but one rider had a problem with the bike, I tried to escape from this scary moment and lost a few positions. From there, I could catch the front group again, but then was struggling a lot, because everybody was fighting on the last three laps. Still, we could be in the front group, fighting for the podium and even the win, so I'm very happy. Finally, I could show, that I'm improving after these difficult races recently. Hopefully, the next two races, it will be the same and we can fight for a podium again."
Position: 22nd
Championship: 18th
Points: 22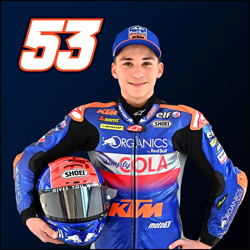 ---
"Actually, I have not a lot to say. We were struggling here since the first Free Practice. We tried to push every lap and find a good setup, but in the end, we couldn't do anything. I'm not happy with this result, but I will continue to push in Aragon, so let's see what we can do next week in Spain."
---
"A great race from Ayumu here in Le Mans. He did a good Qualifying, had a good start and was in the top group from the very beginning. We could see again today, how close Moto3 racing is and it doesn't matter where you are, you have to stay on your wheels and wait for the final three laps to understand what you can really do. Ayumu was there, one more time ready to take the opportunity to be on the podium. Unfortunately, there was a technical problem on Binder's bike and Ayumu had to go wide and out of the track to avoid him. He lost a bit of time and that was maybe the moment where we lost the podium. Anyway, he kept his head down, recovered and eventually crossed the line in sixth position, which is his best result so far of the season, the best result of Red Bull KTM Tech3 in Moto3 so far and I think we needed it, because recently we had a run of bad luck with Ayumu, which was difficult to leave. Although he is a bit disappointed and I can understand him, he showed that he is a potential Grand Prix winner today, he is fast and I'm sure that's going to give him a lot of confidence for the future events. Big congratulations to Ayumu and his crew! There are still some races to go this year, so Ayumu, all I can tell you is, thank you for today. You can be on the podium, never give up and continue to push! It's a different story from the other side of the garage. Deniz was never there this weekend, no matter the conditions. The start was average, but he lost ground on every single lap to end up on the back of the field, which is not what we are used to see with Deniz. I trust him, because I know his potential. This weekend was a weekend without, let's call it like this. Let's hope the next one is going to be different and both of our guys will fight in front. Recover quick, Deniz. It's a good feeling to start Sunday like this, so thank you Ayumu and thanks to the entire Moto3 crew."