Red Bull KTM Tech3's Ayumu Sasaki jumped from P24 to P7 in the combined practice times this morning at the end of a sunny FP3. With this the Japanese youngster qualified directly for Q2 and continued his upward trend in the short important session at lunchtime today. On his final lap, Sasaki did a 1:41.982, which is his fastest lap time this weekend and made him land in seventh, which means third row and his best starting position so far this season.
Yet, Deniz Öncü managed to improve a lot throughout day two at the Le Mans circuit. He did his fastest lap time of 1:43.623 in Q1, but when he aimed to go faster to make the step to Q2, he had to avoid a collision after two riders crashed in front of him on his last flying lap and therefore was unable to step up. The Moto3 World Championship rookie concluded Qualifying one in 13th, which means he will have to start the 10th race of 2020 tomorrow at 11:20 local time from the ninth row of the grid.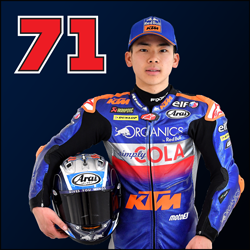 Position: 7th
Time: 1:41.982
Laps: 8
---
"Yesterday was a tough day with the rain conditions, but in the dry we had a good feeling. I felt already well in FP3, although I still missed a few things this morning. But I knew I could improve a little bit more. In Qualifying it's always difficult to make one perfect lap and though my lap was not perfect, I was quite satisfied with it. It was my best Qualifying of the season so far, so I'm happy to see these improvements, also about myself. In the last races, I always started quite far back, which made life more difficult. So now we have to focus on the race pace. We couldn't do a long run yet, but I feel I have a good pace. Hopefully I can get a decent result for my team at their home race."
Position: 27th
Time: 1:43.623
Laps: 6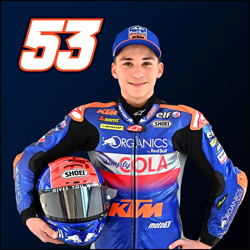 ---
"We are struggling a lot, to be honest. I don't know how to go fast at the moment, I have to admit I'm a bit lost. We need to check all our data now in order to be strong in the race. We know, we have to work a lot for Sunday. My starting position is not that good, so we have a huge challenge ahead of us."