Red Bull KTM Tech3's Deniz Öncü secured a provisional Q2 spot today after he faced a challenging start to the French Grand Prix this morning. In wet conditions, the Turkish Moto3 World Championship rookie was fighting to find a decent feeling, but managed to improve significantly during this afternoon's second session, in which the track was drying. He concluded Friday in P12, which means he sits in a great position ahead of FP3 tomorrow morning at 9:00 local time.
Meanwhile Ayumu Sasaki did a first full wet session aboard his KTM at the famous Le Mans circuit this morning and struggled to get close to the top as well, but showed some decent progress in Free Practice two, finishing just one second behind his teammate. The Japanese youngster aims to get closer to the front during the third session tomorrow morning in order to be well prepared for the all-important Qualifying on home soil for Red Bull KTM Tech3.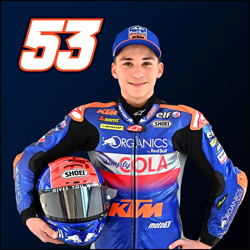 Position: 12th
Time: 1:46.398
Laps: 29
---
"The conditions were quite hard for everyone today with the rain. Unfortunately, I already crashed on my third lap this morning and didn't understand why. Finally, this morning, I could go out again, so this was a good point. In the afternoon, the line was dry, but there were still wet patches out there, so it wasn't easy to stay on the line. I was improving with each lap though and finished P12 in the end, although I did a mistake on the last lap. I hope tomorrow it's dry and I try to do better."
Position: 24th
Time: 1:47.404
Laps: 32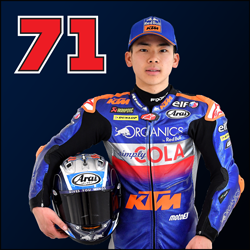 ---
"It was a tricky first day with the weather. The first practice in the rain was almost my first time in these conditions with the KTM bike, so I needed to understand everything a little bit, but I got used to it in the end. We had many things to improve and we did it. I was not happy with the result, but with the way we were working. In FP2, it was even more difficult, as it was drying and in the last 15 minutes, we could go out with a slick tyre. We were improving quite a lot. The result doesn't mean a lot to me today, as with just one more lap, I probably could have made it to P10. Everybody was improving one or two seconds per lap, sometimes you are lucky and sometimes you are not. Overall, it was not so bad. I'm looking forward to FP3 now, as we have the Q2 pace. So hopefully, we can ride with slicks tomorrow morning and try to go through directly."