Red Bull KTM Tech3's Deniz Öncü delivered a stunning Valencia GP today. Starting from P13, he was quickly up in the front group, fighting for top positions and even leading the race for several kilometers. Due to exceeding track limits, he had to perform a long lap penalty with eight laps to go and was back in P11. He caught up to the top again and was battling for the podium until the lay corner, where he tried a pass that didn't work out. The Turkish youngster finally crossed the finish line in fifth and ends his season in P11 overall.
On the other side, Ayumu Sasaki had a tough mission ahead after he crashed in Qualifying and just started from P26. With a strong first lap, he already made up eight positions and was getting closer to the points with each lap. Around halftime he was already in P14 and thanks to a consistent rhythm made it to P10 on the line, which sees him concluding his second and last season with Red Bull KTM Tech3 in ninth of the overall standings and the Red Bull KTM Tech3 Team in fourth of the Team Championship.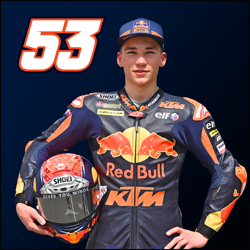 Position: 5th
Championship: 11th
Points: 95
---
"This was the last race of the year and to be honest, this week was quite interesting for me and the team, because after the long penalty, a bit longer than one month, I came back to racing. The first day, I was struggling. I tried to regain my feelings. Yesterday, my feeling with the bike was a little bit better, but not enough."
"So, we improved again today. The race was quite positive. After the start, I already made it to first, but then I got this long lap penalty. I just did it and made it back to the podium positions one more time, but in the last corner, I tried too much and lost two positions. Finally, I'm fifth. I'm angry and at the same time happy, because after a long time I managed to come back to a good level. My target for next year is to fight for the title."
Position: 10th
Championship: 9th
Points: 120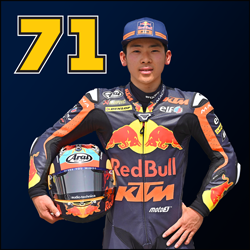 ---
"It has been a really difficult race. Yesterday wasn't a great day unfortunately, when I crashed two times in Qualifying and hurt myself a bit. Today was a difficult race therefore. But I didn't give up until the end. We managed to finish P10, which is not the way I wanted to finish, but I gave my best."
"I just want to say thank you to all the team. All my crew did a fantastic job this year. We had some injuries and other trouble and finished P9 in the championship. Maybe we could have been a little bit better, but everybody did a great job. This was my best year in the World Championship. I'll try to do it better next season from what I learned here from Tech3 and all the crew."
---
"It was a fantastic last Moto3 race of the year, unbelievable for the Red Bull KTM Tech3 team! Deniz had an incredible start and an incredible pace in the first laps and we could see that he was going to be a victory contender. It was tough to follow from my heart and everybody was glued behind the screen. I think Deniz was one of the strongest if not the strongest during that race. He got a long lap penalty, but nevertheless, he put his head down, he kept an incredible never give up attitude and managed to catch back the front group and to be back in contention for eventually winning that race until the very last corner, where Masia got in the inside of him."
"There was no room, so he had to be a bit outside and then he lost the podium and the fourth place to Salac. But he rode like a demon, like a superstar for his return after he has been two races out of here. I think it's a real strong performance and Deniz is clearly somebody, who is going to fight for the championship next year. He is one of the favorites."
"Regarding Ayumu, it's very sad to end up our relationship with him, because he has been a super team player, a super fast rider, a great gentleman. I was sad to see him crashing in Qualifying and start from the back of the grid for his very last race with us. But he never gave up, he has been fighting. He managed to catch a lot of riders in front of him and managed to finish in P10, which allows us to be fourth in the team championship – a great result for the team!"