After topping the time sheets in Free Practice with a stunning lap of 1:39.256 during Free Practice three this morning, Red Bull KTM Tech3's Deniz Öncü was truly back to action at the Gran Premio de la Comunitat Valenciana. The Turkish youngster went straight to Qualifying two, but couldn't quite repeat his fantastic practice time. Yet, his pace was not far off and he is set to give his race comeback tomorrow from the fifth row of thee grid.
On the other side, Ayumu Sasaki missed out on a direct entry to Qualifying two this morning by just 0.134 seconds as he got his fastest lap of FP3 cancelled. The Japanese tried to fight in Q1, but went down early. On the way to his fastest lap, he had another massive crash, which saw his chances fading away. Luckily, a medical check didn't reveal any serious injuries. Yet, he will have to start the final round together with his Red Bull KTM Tech3 crew from row nine tomorrow at 11.00 local time.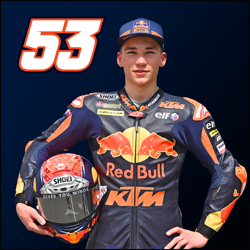 Position: 13th
Time: 1:39.493
Laps: 6
---
"Today I felt better compared to yesterday, which was my first day back on the Moto3 bike after this long break. FP3 was really cool, I had a good feeling with thee bike, could ride it well and easily. But in Qualifying, I don't know why, I just couldn't feel the bike and do a really clean lap. There was not one single lap, that I could go fast completely. I think we will have to work on that now in order to improve for tomorrow."
Position: 27th
Time: 1:40.339
Laps: 5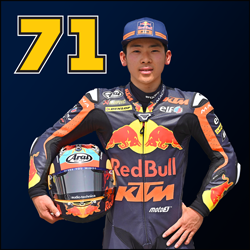 ---
"I have not too much to say. I crashed in the first outing and in the second one as well and even better. I just tried to do my best, but somehow it didn't work very well. In the beginning, I knew that I had some issues with the setup in the entry. I guess on the second outing, I was pushing too much on the exit to recover what I lost in the entry and then I highsided. I don't understand it yet. At least, I don't feel too much pain, so I guess I'm ok for tomorrow, which is the most important thing. From the back of the grid, it will be very difficult to catch the front, but I believe everything is possible. I just have to stay calm now and to prepare for tomorrow."