Starting from the third row of the gird during his first ever visit at the Circuit of the Americas, Red Bull KTM Tech3's Deniz Öncü showed a stunning beginning to fight from ninth to fifth position already on the first lap. Some duels kept the Turkish youngster busy, but he managed to defend his fifth place until the Red flag came out by the end of lap eighth.
Meanwhile Ayumu Sasaki was with the leading group as well, although he had to start from P14 on the grid. He kept his head down to stay in this position and was even fighting closer and closer towards the top 10. When the race was red flagged, the Japanese found himself in P13, taking home useful points from the US.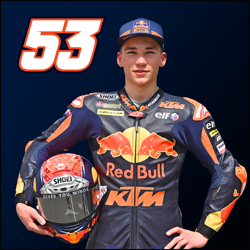 Position: 5th
Championship: 11th
Points: 84
---
"We started the day really well. I finished second in the Warm Up. The pace in the race was quite fast and honestly, I was struggling a bit and going on my limit. Then the red flag came out, we restarted the race and in the second lap, Alcoba and me touched, what resulted in a huge incident. Overall, I'm just happy, that all the riders are fit after this horrible crash. A huge thanks to my team, because I was here for the first time and we still had a really good feeling all weekend long."
Position: 13th
Championship: 9th
Points: 96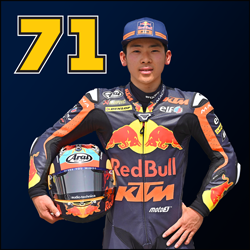 ---
"It has been a crazy race, two red flags. In the Moto3 this year has been very dangerous in general, starting from Mugello, Barcelona, all these races. I think we need to find a way to respect each other and to race cleaner, which is the most important thing. In the end, the results today don't matter, because we didn't finish the race. This is not the result we wanted, but it's like this. I think we should all sit down and everybody should try to ride cleaner, do better racing. That's the goal we are looking for, I think and the thing we have to do after today."
---
"What an incredible Moto3 race! Honestly, we were really scared when we saw what happened during the second part of the race. Fortunately, and this is a huge relief for the whole paddock, everybody is fine and this is the most important thing. There have been discussions to restart for another five laps race or having the Moto3 race at the end of the day and finally, and I think this is the right decision, everybody agreed to call it a day for Moto3. We had enough laps to use the result."
"Deniz has been showing great pace, great maneuvers, he was in P5 when the flag dropped at the first race, but we know that we could have had more. Anyway, this is what it is and the most important – more than the result – is, that everybody is fine. Congratulations to Deniz, to his crew, that was a tough weekend on a track, that he didn't know and I think he did really well."
"Ayumu deserves a better result for sure. He was really fast the last two laps before the red flag and he was also waiting to up the pace for the second part of the race, but unfortunately, nobody knew and nobody had any idea of what happened. I also want to thank him. Both of our guys are in the points and we come out of here showing that we were competitive. Thanks to the whole team and let's have a quite flight back to Europe, rest a bit before we start again in Misano."