Red Bull KTM Tech3's Deniz Öncü is riding the Circuit of the Americas for the very first time this weekend. He started well and learned the unique layout quickly. In Free Practice three this morning, he already went more than one second quicker than yesterday, clinched P10 and with it a direct ticket to Q2, where the Turkish youngster made up another 0.355 seconds to end up in P9 to start the 15th round of 2021 from the third row tomorrow.
At the same time, Ayumu Sasaki increased his confidence with each session. He lowered his Free Practice time during the third session this morning by 1.487 seconds to end up in P13 and thus skip Q1 like his teammate. The Japanese managed to shave off 0.345 seconds again in Qualifying two, to land just 0.202 seconds behind his teammate in P14, which means he'll line up in row five for tomorrow's 17 laps race at 11:00 local time (18:00 CET).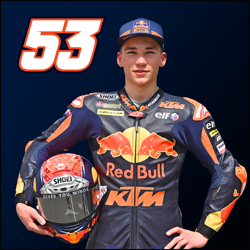 Position: 9th
Time: 2:16.510
Laps: 7
---
"We concluded Qualifying here in ninth and I think for me, riding this track for the first time, it's a decent result. I was riding alone, was strong and had a good pace, which is positive. Yet, there are some points on the bike, we still need to improve a lot for the race tomorrow. Maybe I can manage to ride the bike on this level for five, six laps, but 17 laps are way different. So, we need to improve. Anyway, we feel positive about the race and I can't wait to start."
Position: 14th
Time: 2:16.712
Laps: 7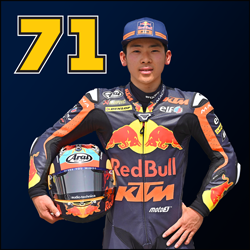 ---
"I think it was a good day. I improved a lot on the bike. After the crash of yesterday, I don't feel 100 percent. Obviously, P14 is not what we are looking for, but it's not bad. I think the bike is good enough to fight in the front group. I just need a small adjustment, but the bike is working in the right way and I think I will feel better tomorrow. I guess that's going to help me as well. I need to fully focus again on Sunday. Hopefully, we can have a good race tomorrow."